ALLEVYN LIFE Heel
All the features and benefits of ALLEVYN LIFE:
Only heel dressing to provide coverage of the malleolus, offering cushioning and protection
Fits easily, requiring no secondary retention and conforms well to the complex contours of the heel
How it works
ALLEVYN LIFE Heel Foam Dressings effectively absorb and lock exudate while providing an optimal patient experience.5,6,9 The foam and lock away core layers prevent the exudate from leaking onto surrounding skin, which may help reduce the risk of maceration.5,6
The soft silicone wound contact layer ensures that the dressing can be repositioned and changed without damaging the wound or surrounding skin, exposing the patient to unnecessary additional pain.7,8 The discretion and change indicator layers minimises unnecessary embarrassment to the patient and shows when the dressing needs to be changed.3,4
ALLEVYN LIFE Heel works in the same way as ALLEVYN LIFE.
The discretion and change indicator layers are exclusive to ALLEVYN LIFE Foam Dressings. Together they reduce the visibility of unsightly exudate strikethrough and show when the dressings need to be changed, helping to reduce unnecessary dressing changes3,4
ALLEVYN LIFE Heel Foam Dressings can be left in place for up to 7 days, depending on the condition of the wound and the surrounding skin, or until exudate covers more than 50% of the absorbent pad outside of the central screen.
How to use
ALLEVYN LIFE Heel Foam Dressings are purposely designed for a wide variety of exuding chronic and acute wounds located on the heel area.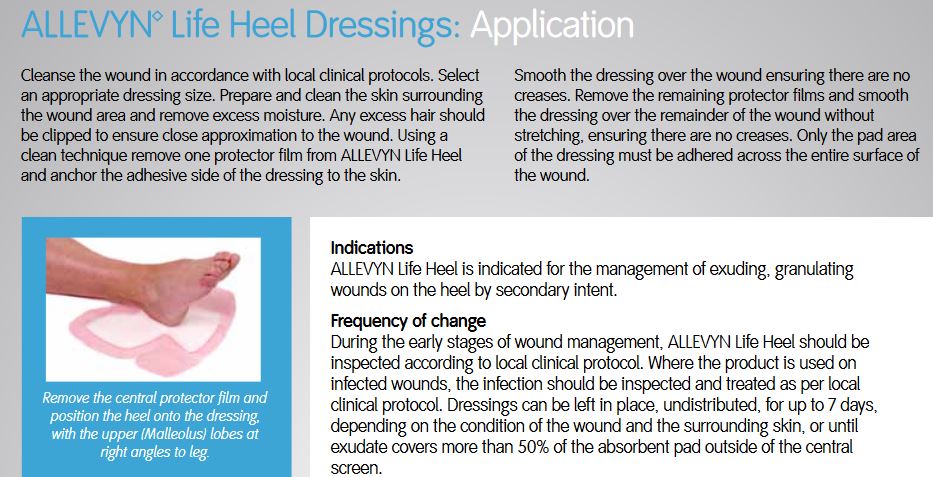 Standard warranty covered by the seller against any manufacturing defect. In such events, please report to us within 7 days from the date of delivery at connect@lumiere32.sg.
Overall Customer Rating:
0 customer reviews Sign In Or Register to post your reviews.
Sign Up
---