Smith & Nephew Acticoat Antimicrobial Barrier Burn Dressing with Nanocrystalline Silver, Low Adherent, Rayon/Polyester Core, Advanced Silver Technology Smith & Nephew Acticoat Burn Dressing with Nanocrystalline Silver is an extended use silver antimicrobial barrier dressing which remains effective for up to seven days. The silver coating rapidly kills a broad spectrum of bacteria in as little as 30 minutes and protects the wound site from bacterial contamination while the inner core helps maintain the moist environment that can facilitate wound healing.
Easier and less painful to remove, making it a dressing of choice.
Not compatible with oil-based products, such as petrolatum.
Can be used on extensive body surface area wounds.
Sustained release of silver for 3 days.
Prevents and reduces infection.
Assists faster healing.
ACTICOAT antimicrobial barrier dressing consists of three layers: an absorbent rayon/polyester inner core sandwiched between outer layers of silver coated, low adherent polyethylene net. ACTICOAT is an absorbent wound dressing that helps to maintain a moist environment at the wound surface. The antimicrobial barrier properties of ACTICOAT remain effective for a minimum of 3 days5.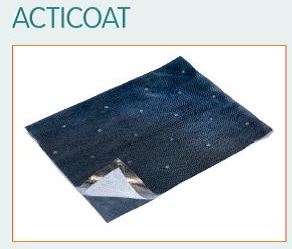 ACTICOAT has proven highly effective against burn wound infections.
Early application can heal wounds faster22-24, improving your patient's comfort and quality of life.
| | |
| --- | --- |
| | |
| | Infection rate reduced by 80%25 |
| | A 90% reduction in the use of antibiotics25 |
| | A significant reduction in the need for skin grafts or other surgical procedures22, 26-28 |
Proactive burn wound treatment.
Prophylactic use can provide an antimicrobial barrier, following removal of necrotic or heavily infected tissue, for:
- Deep partial thickness burns: slows wound colonisation before definitive surgery29
- Superficial partial thickness burns: prevents wound progression and aids epithelialisation22
ACTICOAT can save costs and alleviate staff workloads.
| | |
| --- | --- |
| | 40% reduced cost for burn wound dressings, when compared to alternative dressings*30 |
| | Length of hospital stay reduced by up to 4.75 days29 |
| | |
| --- | --- |
| Overall average total cost per patient treatment is up to 27% lower with ACTICOAT, when compared to other dressings26, 28, 31-34 | |
ACTICOAT has a unique, patented construction with nanocrystalline technology.
| | |
| --- | --- |
| | Bactericidal in as little as 30 minutes to improve healing times1-4 |
| | All signs and symptoms of infection eliminated in 60% of wounds within 2 weeks5 |
| | Reduces the instances and minimises the progression of wound infection through prophylactic or early application6 |
| | Staff and budgetary cost of dressing changes alleviated, by releasing sufficient silver to remain effective for up to 3 or 7 days*7-12 |
| | Up to 50% cost savings per wound when compared to alternative dressings**, promting better outcomes for your patients13 |
ACTICOAT has proven clinically effective in preventing the spread of localised and systemic infections in critically colonised wounds, reducing nursing time and improving patient quality of life2-5
ACTICOAT can potentially save nursing time and cut the cost per wound by up to 50% when compared to alternative dressings**1-2
ACTICOAT should be used immediately when an infection is identified
| | |
| --- | --- |
| | Fights bacteria within 30 minutes of application*1-4 |
| | Provides broad spectrum efficacy against over 150 pathogens, including positive and negative gram bacteria, yeasts and fungal infections, and MRSA when used as a protective barrier1-2,14-18 |
| | 3 or 7 days of uninterrupted use with sustained release of silver, requiring fewer dressing changes7,14-17,19-21 |
| | Low-adherent, high wet tensile strength for one-piece removal and reduced wound bed trauma4 |
Standard warranty covered by the seller against any manufacturing defect. In such events, please report to us within 7 days from the date of delivery at connect@lumiere32.sg.
Overall Customer Rating:
0 customer reviews Sign In Or Register to post your reviews.
Sign Up
---