GentiLance Pricking your finger can be easy
Having to prick your fingers everyday can be a chore. And you wished it could be simpler and with less pain. It is possible with GentiLanceTM, designed and built with you in mind.
GentiLance is safe, gentle and easy to use for both professionals and patients with its unique technology.
GentiLance is able to provide consistent penetration depth and reduced triggering force, sound and vibration giving you same amount of blood each time with significantly less pain.
Features
Simply Gentle
Ergonomically designed for ease of handling
High quality tri-bevel needle with optimum speed penetration
Benefits
1. Safe
Automatic sharps retraction system prevents needle from being exposed after use
Most suitable for daily self monitoring of blood glucose testing
2. Gentle
Unique technology reduces triggering force, sound and vibration
Obtain the same amount of blood with significantly less pain
3. Contact Activation
Consistent penetration depth
4. Easy
Twist and push
No lancing device required
No pre-loading or pre-arming required
Various needle size and penetration depth to suit your different needs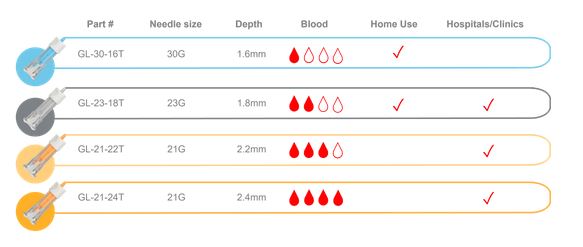 Standard warranty covered by the seller against any manufacturing defect. In such events, please report to us within 7 days from the date of delivery at connect@lumiere32.sg.
Overall Customer Rating:
0 customer reviews Sign In Or Register to post your reviews.
Sign Up
---