One-step placement up to 4mm
Low shrinkage stress
Easy adaptation
Excellent wear resistance
4 shades
The bulk fill flowable that's fast and strong. Excellent as a bulk fill base or as a low-stress liner.
Suggested Applications
Base under Class I and II direct restorations
Liner under direct restorative materials
Pit and fissure sealant
Restoration of minimally invasive cavity preparations (including small, non stress-bearing occlusal restorations)
Class III and V restorations
Undercut blockout
Repair of small enamel defects
Repair of small defects in esthetic indirect restorations
Repair of resin and acrylic temporary materials
As a core build-up where at least half the coronal tooth structure is remaining to provide structural support for the crown
Key benefits
• Virtually no bubbles or material "run-on"
• Easy-to-bend cannula for improved access
• Ergonomic design is easy to hold and inject
• Injectable, one-step placement up to 4 mm
• Excellent adaptation and low shrinkage stress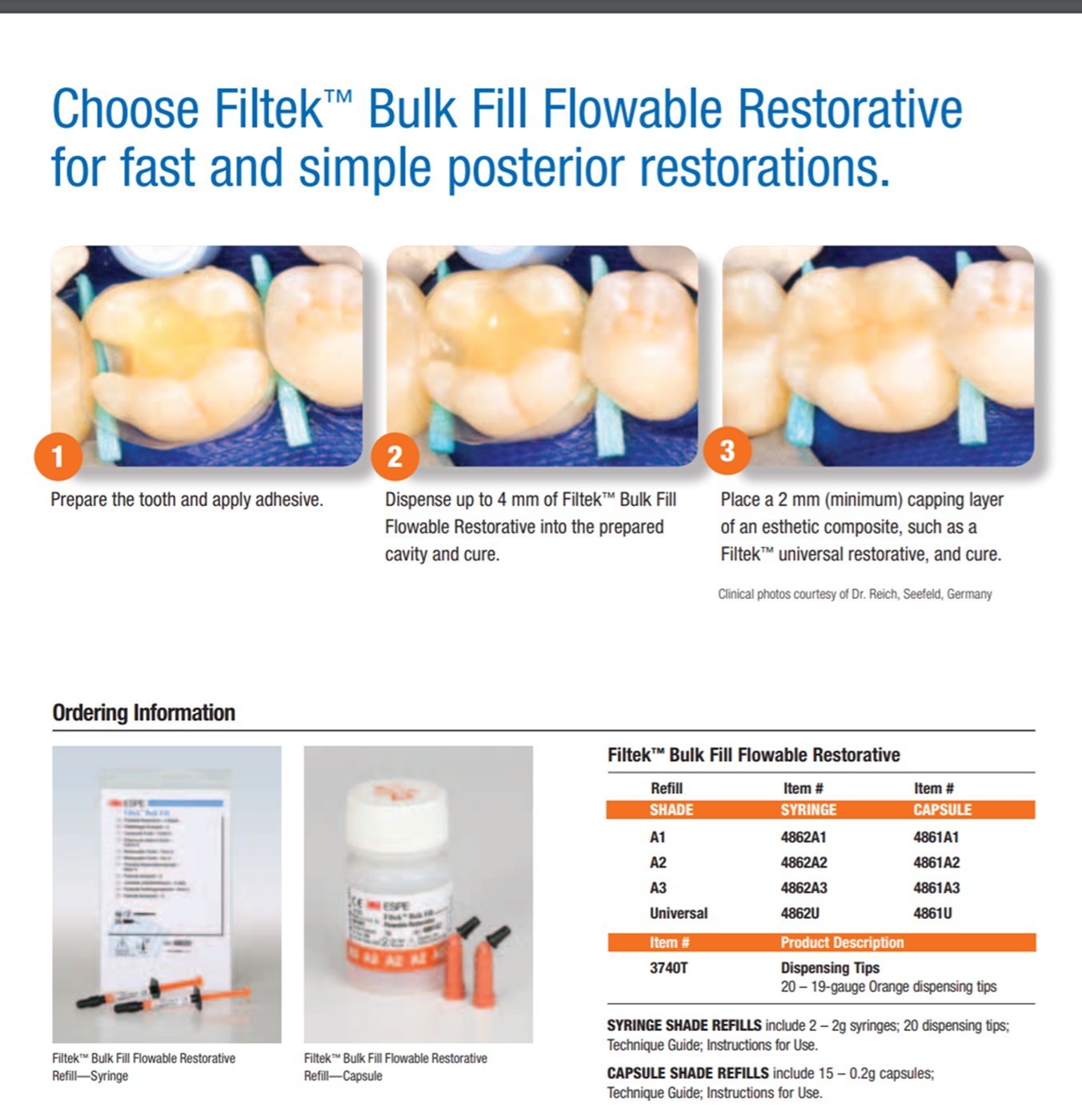 BRAND : Filtek Bulk Fill Flowable
COMPOSITION/INGREDIENTS : Zirconia & Silica Filler
CURE TYPE : Light Cure
ERGONOMIC LOCATION : Posterior
ITEM : Restorative
ITEM TYPE : Bulk Fill
PACKAGING TYPE : Syringe Refill
QUANTITY : Each
RADIOPAQUE : Radiopaque
WEIGHT : 2 Gm
Standard warranty covered by the seller against any manufacturing defect. In such events, please report to us within 7 days from the date of delivery at connect@lumiere32.sg.
Overall Customer Rating:
0 customer reviews Sign In Or Register to post your reviews.
Sign Up
---