Securely conforms to a wide range of parts of the body1,2
Change indicator shows when the dressing needs to be changed3,4
Discretion layer reduces unsightly exudate strikethrough3
Lock away core layer provides wound odour absorption and prevents fluid leakage5,6
Silicone wound contact layer minimises pain on dressing removal7,8
How it works
ALLEVYN LIFE Foam Dressings effectively absorb and lock exudate while providing an optimal patient experience5,6,9. The foam and lock away core layers prevent the exudate from leaking onto surrounding skin, which may help reduce the risk of maceration.5,6 The soft silicone wound contact layer ensures that the dressing can be repositioned and changed without damaging the wound or surrounding skin, exposing the patient to unnecessary additional pain.7,8 The discretion and change indicator layers minimises unnecessary embarrassment to the patient and shows when the dressing needs to be changed.3,4
When to change
Dressings can be left in place undisturbed for up to 7 days, except the sacral area where dressings can be left in place for up to 5 days. Depending on the condition of the wound and the surrounding skin, or until exudate covers 75% or more of the absorbent pad outside of the central screen the dressing should be changed. Between 50%-75% consider changing based on clinical judgement.
How to use
Always clean the wound prior to applying the dressing in accordance with normal procedures
Select the appropriate size dressing. The pad area only of the dressing must be adhered across the entire surface of the wound so make sure the pad overlaps the wound bed
Leakage, visible strikethrough and odour can be embarrassing and stigmatising 1,2
Poor cushioning from knocks and bumps can cause fear and pain 1,2
Dressings that don't stay in place and fall off are highly frustrating 1,2
Frequent dressing changes and slow wound healing cause anxiety 1,2
This inspired the development of ALLEVYN Life which is a multi-layered dressing incorporating hydrocellular foam, hyper-absorber lock away core and masking layer designed specifically for people and their everyday life.
When to use
ALLEVYN LIFE is a multi-purpose foam dressing which is designed for a wide variety of exuding chronic and acute wounds. It has been designed to for moderate to high exuding wounds such as pressure ulcers, leg and foot ulcers including diabetic, traumatic wounds and other secondary healing wounds.7,11-13
ALLEVYN LIFE is also proven to help prevent pressure ulcers when used in addition with standard pressure ulcer prevention protocols14
Where to use
ALLEVYN LIFE Dressings come in a wide variety of shapes and sizes making it the solution for small to large wounds – even those located on challenging parts of the body. Anatomical shaped sizes are also available in ALLEVYN LIFE Sacrum and ALLEVYN LIFE Heel.
ALLEVYN LIFE Dressings are versatile and can be applied to various parts of the body.
ALLEVYN LIFE shows you when it needs to be changed
The discretion and change indicator layers are exclusive to ALLEVYN LIFE. Together they reduce the visibility of unsightly exudate strikethrough and show when the dressing needs to be changed, helping to reduce unnecessary dressing changes3,4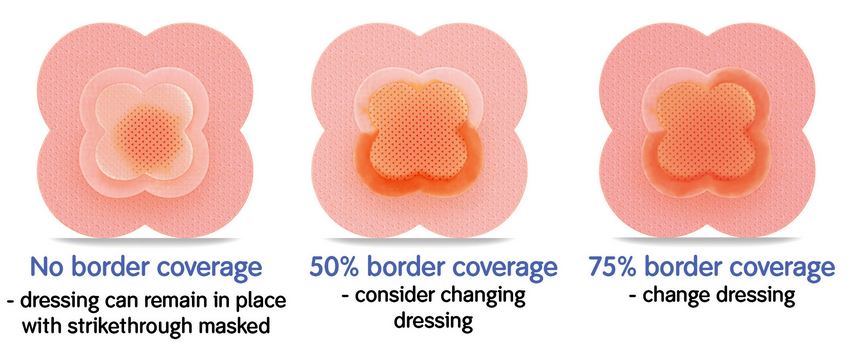 Standard warranty covered by the seller against any manufacturing defect. In such events, please report to us within 7 days from the date of delivery at connect@lumiere32.sg.
Overall Customer Rating:
0 customer reviews Sign In Or Register to post your reviews.
Sign Up
---