CLINICALLY PROVEN to manage pain caused by foot drop, plantar fasciitis, and Achilles tendonitis while you sleep

FEATURES A SOFT, DELUXE PADDED LINER that makes sleeping through the night more bearable than a traditional plantar fasciitis boot

LOW PROFILE, OPEN HEEL DESIGN for enhanced breathability and 3 EASILY ADJUSTABLE fastener straps, which allow you to conveniently customize the fit

HOLDS YOUR FOOT UPRIGHT while you rest for a gentle, consistent stretch to your plantar fascia, Achilles tendon, and calf muscle. Works as an ambulation splint at night to help with toe walking, Charcot-Marie-Tooth, flat feet, and other gait abnormalities by promoting proper plantar flexion and restoring range of motion to the ankle.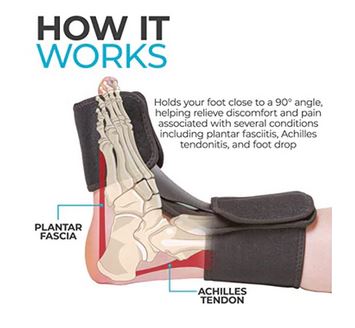 This splint support has a constant pull of the Achilles in a dorsiflexion angle all throughout the night. By leaving the ankle and heel open, you won't get hot or sweaty in the middle of the night from wearing it.
This removable dorsal splint is easy to put on and strap up making your nighttime routine quick. It also allows you to sleep on your side, back, or stomach comfortably. It works for both men and women as well as for either left or right foot.
Directions
To apply this brace, undo all of the fastener straps. Then, while sitting on the edge of a chair or on your bed, slide your foot through an elastic foot band. With your toes pulled up, firmly wrap and secure the calf strap. Next, pull and secure each foot strap, one at a time, for a snug, yet comfortable fit. Make sure both sides are even.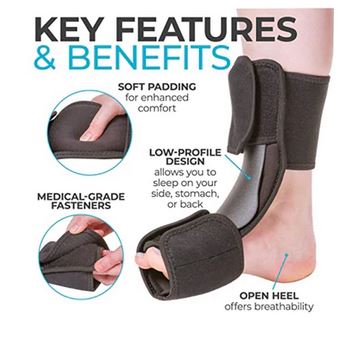 Standard warranty covered by the seller against any manufacturing defect. In such events, please report to us within 7 days from the date of delivery at connect@lumiere32.sg.
Overall Customer Rating:
0 customer reviews Sign In Or Register to post your reviews.
Sign Up
---