RelyX luting cement is a hybrid glass ionomer permanent cement that is fast setting, strong and easy to use. It is indicated for metal crowns, inlays and onlays, PFM (porcelain fused to metal) crowns and bridges, ceramic restorations, endodontic pins and posts and orthodontic appliances.
Mousse-like consistency allows for easy mixing, loading and seating
Zero solubility provides enhanced marginal integrity
High fracture toughness for durability
Hybrid glass ionomer offers sustained fluoride release
Virtually no post-operative sensitivity for better patient comfort Contains: 1 (16 g) powder, 1 (9 ml) liquid, spoon, mixing pads, instructions and technique guides
Indications:
• For permanent cementing of: - Porcelain-fused-to-metal crowns and bridges - Metal inlays, onlays, crowns and bridges - Crowns made with all-alumina or all-zirconia cores such as Procera AllCeram - Pre-fabricated and cast endodontic posts
• Cementing orthodontic bands Tooth Preparation:
• Remove provisional restoration and all temporary cement. • Clean tooth with oil-free pumice paste, rinse, and dry.
• Do not dessicate the tooth.
Mixing:
• Use an equal number of powder scoops and liquid drops. • Fluff the powder. Dispense 3 level scoops for crown, 6 for bridge.
• Hold liquid vial vertically and dispense 3 drops for crown, 6 for bridge. Keep the vial tip clean.
• Mix all the powder into the liquid, about 30 seconds. 2 Load the crown/bridge:
• Spread the cement over all the internal surfaces of the crown/ bridge.
• Working time is 2.5 minutes.
Placement:
• Seat the crown/bridge.
• Wait at least 3 minutes after placement.
• Remove excess cement with an appropriate instrument.

Great performance. Easy to use.
Easy-to-use RelyXTM Luting Cement from 3M ESPE is the luting cement more dentists trust. RelyX Luting cement is a resin-modified glass ionomer cement used for routine cementation of PFM and metal crowns, bridges, inlays/onlays, crowns made with all-alumina or all-zirconia cores such as Procera AllCeram, endodontic posts and orthodontic appliances.
Easy to mix, load and seat due to its mousselike consistency
Easy clean-up
Zero solubility for enhanced marginal integrity1
High fracture toughness
Sustained fluoride release
Virtually no postoperative sensitivity2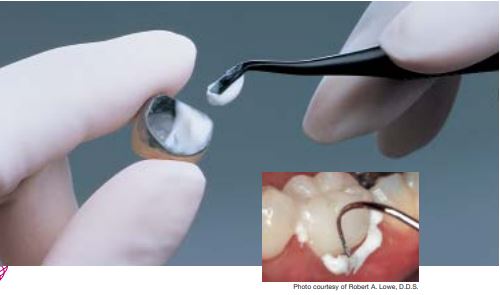 Standard warranty covered by the seller against any manufacturing defect. In such events, please report to us within 7 days from the date of delivery at connect@lumiere32.sg.
Overall Customer Rating:
0 customer reviews Sign In Or Register to post your reviews.
Sign Up
---