Ketac Universal restorative saves time by eliminating the need for a coating-yet it delivers higher compressive strength and surface hardness than several competitive glass ionomers that require one.This advancement is the latest 3M ESPE Dental's 30-year history of developing trusted glass ionomer.
Self Adhesive
Self Cure
Radiopaque
Air Humidity Tolerance
No need for conditioner or coatin
Bulk fill- no need for layering
Enables fast, one step, stress-bearing restorative solutions
Extended indications for use compared to other glass ionomer materials
Continuously releases flouride over 6 months
Adapts easily to the cavity margin
Designed to save steps for a faster procedure, so it's ideal for treating paediatric, elderly and teenage patients, who can be the most caries-prone and the most restless.
Ketac Universal Aplicap restorative offers low stickiness for easy handling and reduces chair time with a simple 1-step placement for a faster finish.
The material can be used without preconditioning the cavity and without a coating, so it eliminates steps, whilst still delivering compressive strength and surface hardness.
Ketac Universal Aplicap is mixed in triturated capsules to initiate the acid-base setting reaction of the glass ionomer. The capsule has a tapered nozzle which enables better access to the cavity.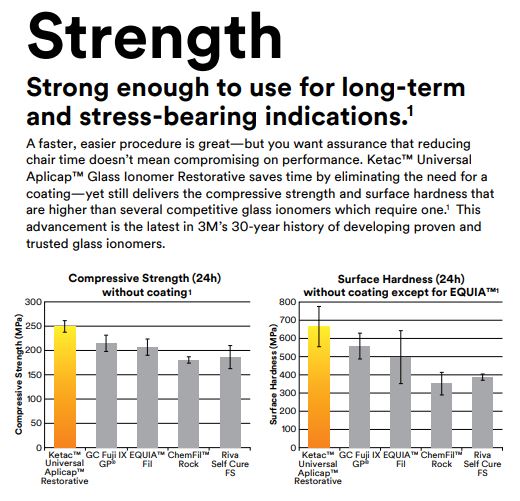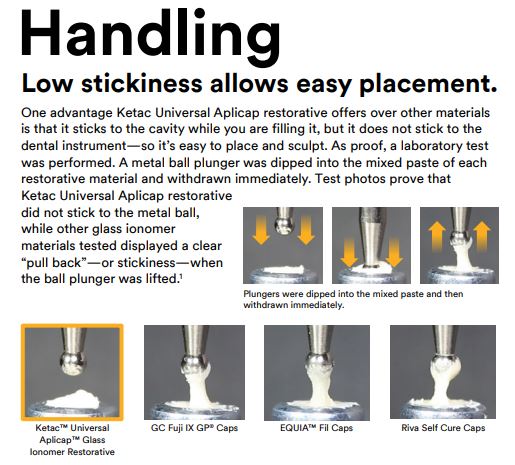 Advantages:
No need for conditioner or coating.
Bulk fill – no need or layering.
Enables fast, one-step, stress-bearing restorative solutions.
Low stickiness allows easy placement.
Continuously releases fluoride for 24 months.
Self-adhesive.
Self-cure.
Available in 6 shades.
Indications:
Linings for single- and multiple-surface composite fillings.
Core build-up prior to crown placement.
Primary tooth fillings.
Restricted stress-bearing Class I and Class II restorations
Cervical fillings.
Single- and multiple-surface temporary fillings.
Fissure sealing.
Standard warranty covered by the seller against any manufacturing defect. In such events, please report to us within 7 days from the date of delivery at connect@lumiere32.sg.
Overall Customer Rating:
0 customer reviews Sign In Or Register to post your reviews.
Sign Up
---