Dual cure provides light-cure control and the assurance of a complete cure
High fluoride release
Excellent mechanical properties, plus it's radiopaque and biocompatible
Convenience, simplicity and accuracy of the Aplicap delivery system
Conservative cavity preparation, fluoride releas eand fast, easy technique make it ideal for geriatric and pediatric patients
Photac Fil Quick material is a fluoride-releasing, resinmodified glass ionomer. Its self-adhesive property eliminates the need for bonding and cavity conditioning. The result is a fast and easy solution for treating anxious pediatric and geriatric patients.
Suggested Applications
Class III and Class IV restorations.
Small Class I restorations.
Primary tooth restorations.
Temporary restorations.
Clinical advantages:
• Lasting and durable bond to natural tooth structure is effective in preventing bacterial microleakage.
• Rubber dams are unnecessary because of its moisture tolerance.
• Fast, easy handling makes it ideal for treating pediatric and geriatric patients.
• Less shrinkage than traditional composites – leads to better marginal integrity.
• Unique capsule design assures proper activation – so time-wasting, costly "duds" are not a problem.
Indications:
• Class III and Class V restorations
• Small Class I restorations
• Primary tooth restorations
• Temporary restorations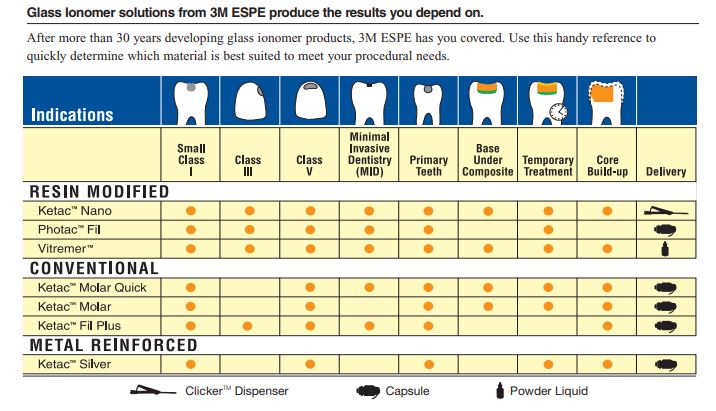 • Saves time – no cavity conditioning or protective varnish required.
• Expensive etching, priming and bonding procedures are no longer necessary.
• Dual cure provides longer working time and short setting time.
• Excellent mechanical properties.
• Aplicap capsule delivery for consistent handling characteristics and reproducible results.
• Radiopaque and biocompatible.
• High fluoride release.
• Available in eight shades.
Manufacturer Code: 61010
Brand: Photac
Class: Refill
Component(s): Capsules
Curing: Dual-cure
Standard warranty covered by the seller against any manufacturing defect. In such events, please report to us within 7 days from the date of delivery at connect@lumiere32.sg.
Overall Customer Rating:
0 customer reviews Sign In Or Register to post your reviews.
Sign Up
---