Silver particles are sintered into the glass using a 3M ESPE process, which makes Ketac Silver glass ionomer restorative an excellent thermal and electrical insulator.
Offers high, sustained fluoride release.
Contains no amalgam.
Aplicap and Maxicap delivery systems provide accurate, consistent mixing and easy dispensing.
Maxicap is indicated for extended core build-ups.
This silver glass ionomer contains no amalgam and offers high, long-term fluoride release as well as adhesion to enamel and dentin to ensure sealed, lasting restorations without the need for undercuts.
Suggested Applications
Core build-ups.
Primary teeth fillings.
Small fillings in posterior teeth.
Base under amalgams.
Temporary restorations.
Clinical advantages:
• Ketac Silver is biocompatible—this makes it particularly suitable for core build-ups
• An excellent insulator, which protects the pulp and helps eliminate patient sensitivity
• No need for undercutting—so you conserve tooth structure
• An easy-to-mix hand mix formula and two capsule delivery systems makes it versatile in any application
• Less shrinkage than traditional composites— leads to better marginal integrity
Indications:
• Core build-ups
• Primary teeth fillings
• Small fillings in posterior teeth
• Temporaries
• Base under amalgams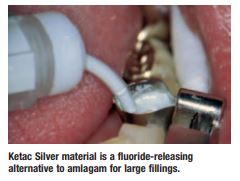 Ketac Universal restorative saves time by eliminating the need for a coating-yet it delivers higher compressive strength and surface hardness than several competitive glass ionomers that require one.This advancement is the latest 3M ESPE Dental's 30-year history of developing trusted glass ionomer.
Self Adhesive
Self Cure
Radiopaque
Air Humidity Tolerance
No need for conditioner or coatin
Bulk fill- no need for layering
Enables fast, one step, stress-bearing restorative solutions
Extended indications for use compared to other glass ionomer materials
Continuously releases flouride over 6 months
Adapts easily to the cavity margin
Package Content:
1 x 25g Powder
1 x 12ml Liquid
1 x Mixing Pad
Standard warranty covered by the seller against any manufacturing defect. In such events, please report to us within 7 days from the date of delivery at connect@lumiere32.sg.
Overall Customer Rating:
0 customer reviews Sign In Or Register to post your reviews.
Sign Up
---