YAMASHIN Filter Mask capture efficiency
Decorative and cloth masks cannot provide fine particulate filtration comparable to YAMASHIN Filter Mask.
A filter's capture efficiency determines mask performance.
The general non-woven disposable masks made by other companies can't capture fine particles via their physical structures. Instead, they rely on static electricity. But moisture weakens static electricity. Exposure to moisture in exhaled air neutralizes most static charge and weakens capture performance accordingly.
Rather than relying on static electricity, YAMASHIN NANO FILTER captures fine particles through structural properties (its high-density structure). That means it retains nearly all of its capture performance even after repeated handwashing.
Sustained capture efficiency
Sustained capture performance protects loved ones 24/7.
General non-woven disposable masks that rely on electrostatic charge have lower initial capture efficiency. Prolonged use and/or exposure to moisture in exhaled air further degrades their performance. In contrast, YAMASHIN Filter Mask exhibits minimal deterioration in capture performance. It maintains 97% of its performance even after being hand-washed using a pressing motion five times. Instead of relying on static electricity, it relies on its physical structure, a high-density structure with innumerable tiny voids, to capture nano-scale particles.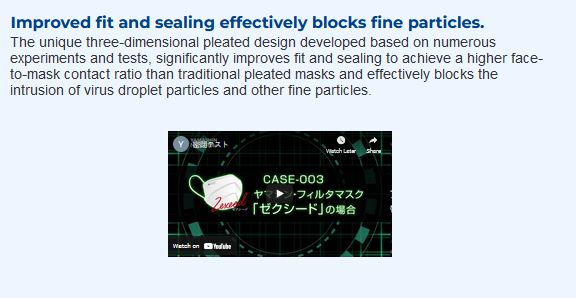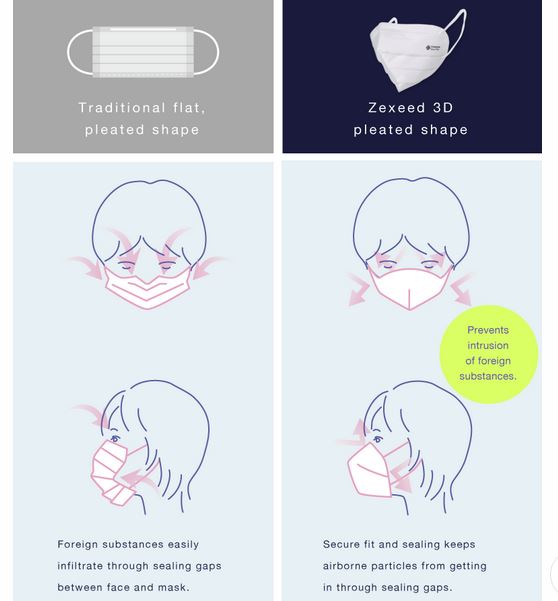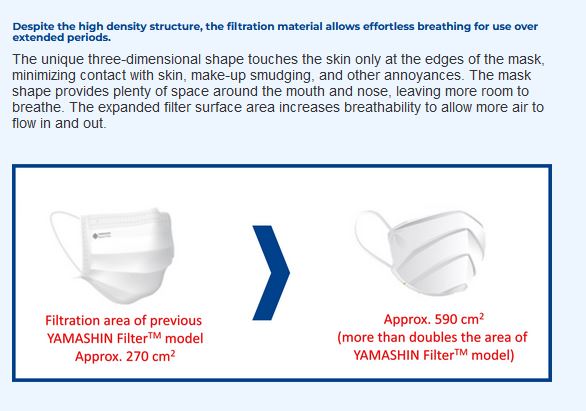 Zexeed fit and sealing
The unique three dimensional pleated shape significantly enhances fit and sealing!
Measuring air particles that leak through the mask filter onto the face shows leakage ratios of the cloth masks and general non-woven disposal masks of 100% and 60%, respectively, whereas Zexeed achieves a low leakage ratio of 10%.
Despite the high density structure, the filtration material allows effortless breathing for use over extended periods.
The unique three-dimensional shape touches the skin only at the edges of the mask, minimizing contact with skin, make-up smudging, and other annoyances. The mask shape provides plenty of space around the mouth and nose, leaving more room to breathe. The expanded filter surface area increases breathability to allow more air to flow in and out.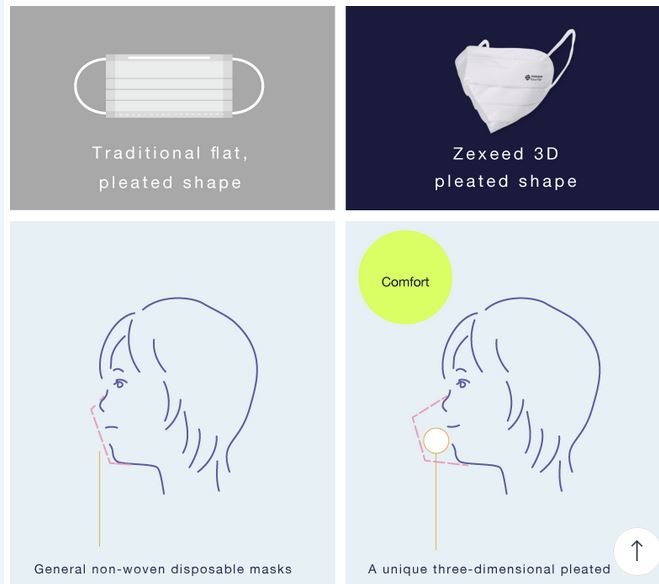 Standard warranty covered by the seller against any manufacturing defect. In such events, please report to us within 7 days from the date of delivery at connect@lumiere32.sg.
Overall Customer Rating:
0 customer reviews Sign In Or Register to post your reviews.
Sign Up
---