Fully automatic soap dispenser induction to avoid contact with caused by the spread of germs. Top atomization effect ---- can effectively kill a variety of bacteria.
Automatic power-saving chip is more energy-saving, environmental protection, economic use of the cost. More user-friendly design easy to install and simple to use and long life.
Voice promptsif there are objects in the sense below, it sounds to give warning Super-long battery life, support for DC power supply
Battery margin reminder, the yellow light flashing expressed the need to replace the battery * Soap to add reminders, red light flashes expressed the need for replacement of liquid soap Particularly applicable to airports, terminals, convention centers, hotels, hotels, clubs, recreation centers, buildings, hospitals, schools and other public places.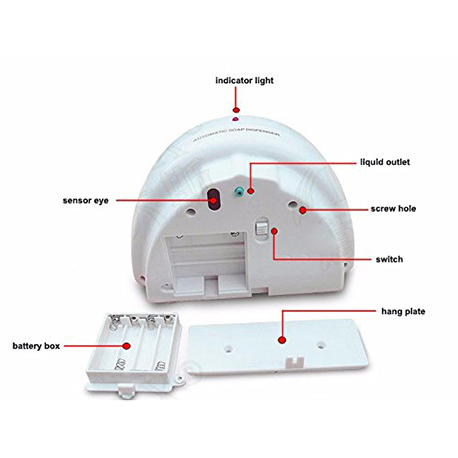 Foam Soap Dispenser Liquid Soap Dispenser
Type:Automatic Soap Dispenser
Title :Sensor Soap Dispenser
capacity:500ml
dimension:L145*W207*H108 Drop
Volume:1ml
Battery:4pcs of 1.5V "AA"
Type:Wall-hung Sensor
Range:0~15cm adjustable Low Battery
Indication:≤4.2V
Plastic Material:ABS Working
Current:120mA Environment temperature 0-45ºC
Standard warranty covered by the seller against any manufacturing defect. In such events, please report to us within 7 days from the date of delivery at connect@lumiere32.sg.
Overall Customer Rating:
0 customer reviews Sign In Or Register to post your reviews.
Sign Up
---