Manufactured in the UK and available in convenient pack sizes, the Ultraspec range of forceps is the sustainable choice for discerning users. All devices are UKCA-Marked and manufactured to ISO13485 standards.
Designed to offer maximum visibility and functionality when used in conjunction with the Ultraspec vaginal speculum. Each set of forceps features smooth opening and closing, and a secure locking mechanism. The comfortable ergonomic handles ensure the practitioner is in maximum control.
UKCA-Marked, latex-free, available sterile and clincially clean; Ultraspec Forceps are the UK's cost-effective superior quality alternative to metal. Ultraspec Instruments are single-use to protect patients against cross-infection risks.
The disposable Ultraspec Tenaculum forceps feature a precise single-toothed grip, ideal for holding the anterior lip of the cervix during procedures. Specifically developed to allow greater visibility and the secure locking mechanism. Comfortable handle ensures practitioners are in maximum control during procedures
Featuring an angled head to maximise access to the cervix during the procedure and improving visibility when used with Ultraspec Speculum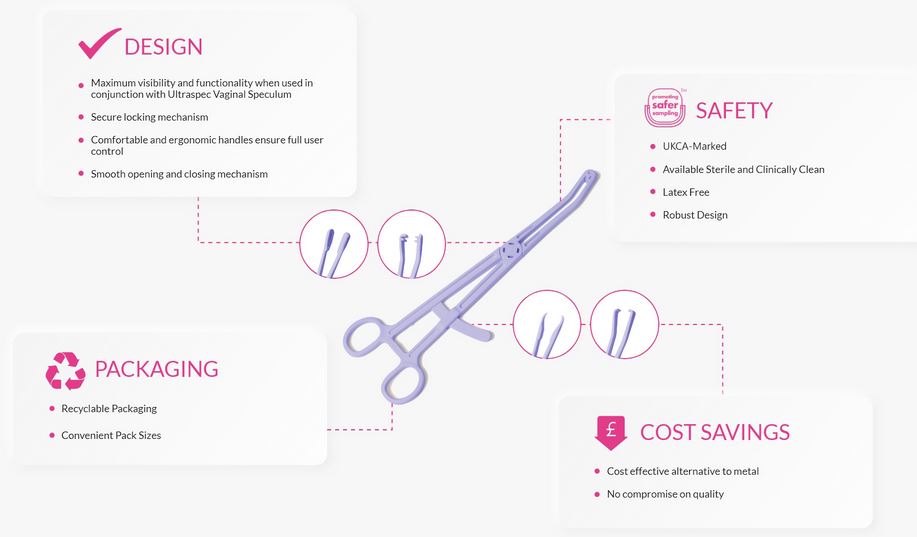 Extremely innovative design which ensures maximum visibility during procedures and a precise grip
Light weight but extremely robust … this is the ideal alternative to metal
The smooth opening and locking mechanism makes it exceptionally easy to use.
Standard warranty covered by the seller against any manufacturing defect. In such events, please report to us within 7 days from the date of delivery at connect@lumiere32.sg.
Overall Customer Rating:
0 customer reviews Sign In Or Register to post your reviews.
Sign Up
---