Semi-Automatic Autoclaves
7.5 to 85 liter chamber volume
An affordable autoclave for clinics
Reduced running costs
Double locking door safety device
16L stainless steel chamber
Heat insulation and quiet operation
The Semi-Automatic Autoclave is an affordable sterilizer for private clinics that do not want to compromise on quality, safety and reliability. Tuttnauer semi-automatic autoclaves are an effortless Plug n' Play solution. After installation, the sterilizer is virtually maintenance free with reduced running costs.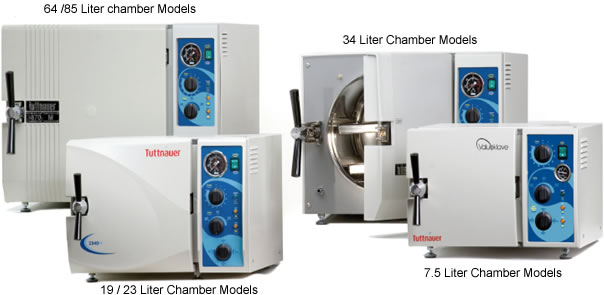 SAFETY AND CONVENIENCE FEATURES:
Heat insulation and quiet operation for pleasant office environment
Durable 316L stainless steel chamber and door with electro-polish finish
Double locking safety device prevents door from opening while chamber is pressurized
Steam pressure activated lock prevents door from opening if chamber is pressurized
Door failure protection prevents door from opening at high pressure
Automatic safety shutoff prevents overheating
Insufficient water detector with automatic shutoff
*Faster cycle time means quick turn-around for handpieces and valuable instruments.
*Sterilization cycle with automatic shut-off.
*Chamber made of stainless steel type 316L.
*Insures longer chamber life and easy cleaning.
*Stainless steel door-with double safety locking device.
*Prevents door from opening while chamber is pressured.
*Low water cut-off- prevents burn-out of heating elements in case of insufficient water in reservoir.
*Drain system allows quick and easy cleaning of the water reservoir.

Specifications
*Volume : 19L
*Chamber dimensions diaxL (mm) : 230 x 450
*Overall dimensions WxHxD (mm) : 508x362x550
*Tray dimensions WxHxD (mm) : 168x20x414
*No. of trays : 3
*Standard cassettes : 2 full / 2 half
*Standard unwrapped cycle time : Cold: 12mins/ Hot: 9mins
*Voltage (V)/ Frequency (Hz) : 230V (50/60Hz)
*Power (W)/ Current (A) : 2200W / 9.6A
*Weight (kg) : 31kg
*Warranty:1 Year
Standard warranty covered by the seller against any manufacturing defect. In such events, please report to us within 7 days from the date of delivery at connect@lumiere32.sg.
Overall Customer Rating:
0 customer reviews Sign In Or Register to post your reviews.
Sign Up
---