What is a pulse oximeter?
Pulse oximeter is a small medical device that measures heart rate and how much of the hemoglobin in blood is carrying oxygen (oxygen saturation). It is usually clisonosatd to fingers, but it can also attach to your nose, ear, toe or forehead. Pulse oximeters are commonly use because it is:
Non-invasive
Cheap to buy and use
Very often has a compact design
Detects hypoxaemia earlier than eyes can detect cyanosis (bluish cast to the skin and mucous membranes)
Pulse oximeters are useful in providing information of your vital signs, at your fingertip!
SONOSAT-F02T Fingertip Pulse Oximeter
Fingertip Pulse Oximeter F02T is intended for measuring oxygen saturation and pulse rate of adults or children in families, hospitals, oxygen bars or social medical care institutions. One can use this device for measurement before and after sports. This device is small and lightweight making it convenient for you to bring it around anywhere. Whether you are always on the go or always travelling, your health need not take a backseat.
SONOSAT-F02T Features
LED Display, Direction Adjustable
SpO2 and Pulse Monitoring with Waveform Display
Low Power Consumption, Work Continuously for 50hrs
Small in Size, Light in Weight, Easy to Carry Around
Low Voltage Alarm Display, Auto Power Off
Runs on Standard AAA Batteries
SONOSAT-F02T Specifications
This pulse oximeter is CE certified, FDA cleared & HSA Approved (Registration no: DE0504447).
Model: SONOSAT-F02T
Display Type: LED: 1.5"
Maximum Weight: 28g (Bare machine)
Parameter: Pulse Rate (PR), Oxygen Saturation (SpO2)
SpO2 Measurement Range: 70% ~ 100%
SpO2 Resolution: 1%
SpO2 Accuracy: 70% ~ 100%, ±2 digits, Less than 70%, unspecified
PR(BMP) Measurement Range: 25bpm ~ 250bpm
PR Resolution: 1bpm
PR Accuracy: 25bpm ~ 250bpm, ±3digits
Battery: 2 x AAA batteries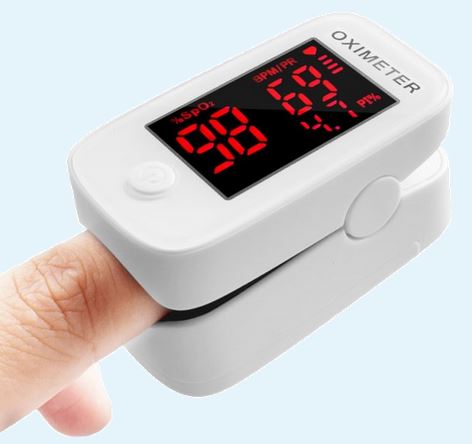 Standard warranty covered by the seller against any manufacturing defect. In such events, please report to us within 7 days from the date of delivery at connect@lumiere32.sg.
Overall Customer Rating:
0 customer reviews Sign In Or Register to post your reviews.
Sign Up
---