ReSPR Flex
Self contained, portable up to 150m2/1500ft2
Multi-technologies system
No installation required
Adjustable purifier control and fan speed
Low maintance - Low cleaning required
The ReSPR FLEX is suited for any indoor area where people live, air pollution is a challenge, and where no-required-installation is an advantage along with remote control only to prevent settings changes.
ReSPR FLEX can be installed anywhere you have access to an outlet, close to the source of pollution and/or the place of higher occupancy.
ELECTRICAL REQUIREMENTS
To use the 120/240 volt plug, be sure to locate the unit within 2m of a standard 120/240 volt grounded outlet. Long term use of an extension cord is not recommended due to safety considerations.
ReSPR FLEX uses a washable lint screen filter and only needs a small intervention every 2 years (replacement of the ECO cell).
And installing ReSPR FLEX is amazingly simple: just locate an outlet, connect the unit to the main and place the ReSPR FLEX where the airflow can reach all areas of the room.
APLICATIONS
Residential Homes
Hospital Areas And Patient Rooms Nursing Homes
Business Offices
Hotels' Lobbies And Restaurants Residential Homes
Efficiency Apartments
Benefits
ReSPR substantially reduces odors, visible smoke in the air, and microbial population in the environment and on surfaces using NCC Technology. Especially suitable for indoor contamination control.
Continuous air disinfection
Continuous surface disinfection
Savings on cleaning and disinfection products
Savings on staff-related costs
Savings on staff absenteeism
Direct and indirect savings on medicines and labor insurance
Strengthen the institutional image by taking care of the health of clients and employees
Prevents fungus formation
Eliminates bad odors
Easy installation: plug and play
Almost no maintenance or cleaning
Simple, discreet, and silent
Eliminates viruses, bacteria, and fungi by more than 99.999%
Flex is our best-selling equipment for its versatility and effectiveness.
By means of adjustments in the equipment and by remote control, you can regulate the purification and ventilation power in this equipment.
Spcifications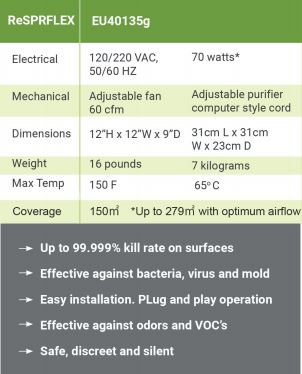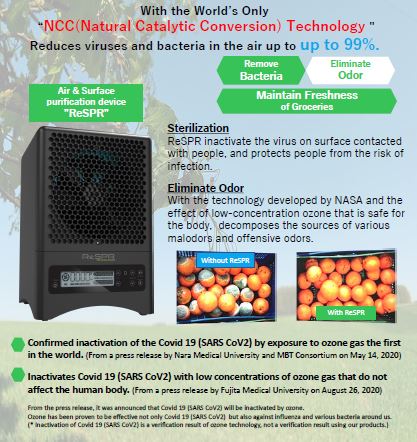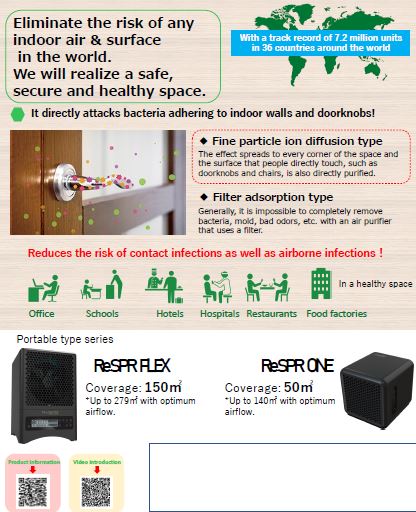 Standard warranty covered by the seller against any manufacturing defect. In such events, please report to us within 7 days from the date of delivery at connect@lumiere32.sg.
Overall Customer Rating:
0 customer reviews Sign In Or Register to post your reviews.
Sign Up
---