Low-vacuum systems Mini are suitable for gentle wound drainage in sensitive tissue. A manually compressible bellows is used to generate a low vacuum, which allows intra- and postoperative wound drainage.
The mini low-vacuum set is completely free of PVC and comprises a small bellows and a polyurethane Redon drain with trocar.
Low-vacuum system PRI-LOW-VAC® MINI, 50 ml
MINI Redon bellows (50 ml) with universal screw connector for safe connection of 8 Ch. Redon drains
With soft Redon drain made of polyurethane (PU) with trocar (preconnected guide needle)
| Ch. | Article number |
| --- | --- |
| 8 | 21636 |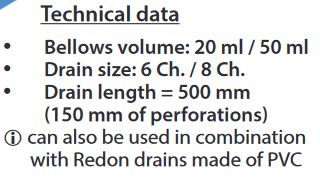 Standard warranty covered by the seller against any manufacturing defect. In such events, please report to us within 7 days from the date of delivery at connect@lumiere32.sg.
Overall Customer Rating:
0 customer reviews Sign In Or Register to post your reviews.
Sign Up
---