Philips DreamStation 2 Reusable & 12 Disposable Ultra-Fine Filters
The reusable pollen filter screens out household dust and pollens while the disposable ultra-fine filters provide more complete filtration of finer particles.
It is recommended to clean the reusable filter at least once every 2 weeks and replace it with a new one every 6 months. The disposable ultra-fine filters should be replaced after 30 nights of use or sooner if it appears dirty. Do not clean the ultra-fine filter.
These Disposable Ultra Fine Filters are made of Polyester fibers in a light blue carrier. They are original Philips Respironics branded filters compatible with all DreamStation CPAP & BiLevel machines.
Ultra Fine Filters are an optional accessory, for increased filtration efficiency, for use with all DreamStation CPAP & BiPAP machines.
Usage
These filters are disposable and should be replaced after 30 nights of use or sooner if they appear dirty. To install an ultra fine filter in your DreamStation, slide the blue foam pollen filter out of the machine, securely snap the light blue ultra fine filter onto the base of the foam pollen filter, and insert them both back into the device.
- The Philips Respironics Ultrafine Filters are disposable filters
- These are meant to be used for Dreamstation CPAP Machine in conjunction with the Respironics Reusable Pollen Filters
- The filter is housed in a blue frame that is permanently attached, and cannot be separated
- The Disposable filters are essential to maintaining your CPAP therapy by removing dust, pollen, and tobacco smoke particles from your CPAP air flow
- It is necessary for those who live in a home with a great amount of dust and those who live with pets
- The ultra-fine filter will ensure that the air you are breathing throughout your therapy is dust-free as possible
- With this filter, your CPAP machine is also protected against the dust so it runs longer
- The disposable filter cannot be washed, the disposable filter should be replaced every 30 days or earlier if it shows sign of damage or appears dirty. The fine filter and light blue frame are permanently attached and the two cannot be separated.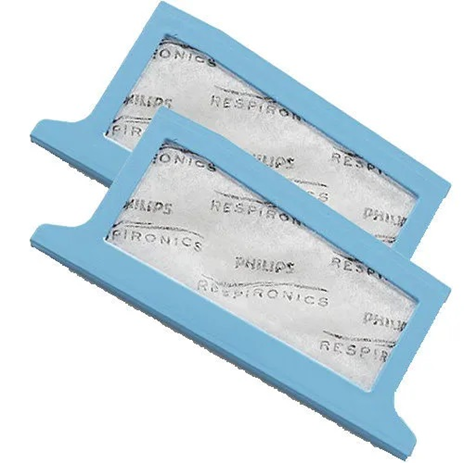 Standard warranty covered by the seller against any manufacturing defect. In such events, please report to us within 7 days from the date of delivery at connect@lumiere32.sg.
Overall Customer Rating:
0 customer reviews Sign In Or Register to post your reviews.
Sign Up
---