Medical Wire Amnicator
Amnicators - Method of use
The procedure is best performed with the mother lying on her back.
Cleanse the vulva and vagina introitus (vaginal opening)
Carefully insert a bi-valve speculum (eg Cusco\'s speculum) into the vagina and open exposing the cervix.
Remove Amnicator swab from peel pouch. Take care not to touch the tip, or allow it to come into contact with other substances.
Pass an Amnicator into the vagina and sample for 15 seconds any liquor present at the external cervical os or in the posterior fornix of the vagina.
Withdraw the Amnicator and inspect the colour of the swab tip after 5 seconds.
Compare the colour of the Amnicator with the table.
Nitrazine test for detection of amniotic fluid from leaking foetal membranes. Bud type is Polyester.
Recommended Applications
Detection of prematurely ruptured foetal membranes.
Features
Rapid visual test for detection of amniotic fluid
Colour change for easy detection
Nitrazine indicator
Benefits
Easy to use and rapid detection
No special storage needed
Colour change gives visual indication
Based on the pH response
Packing Size
The ideal test for Amniotic fluid detection (PROM).
Amnicators are nitrazine-based tests for rapid and easy detection of ruptured membranes during pregnancy. The simple swab test gives a result in less than 5 minutes. A color change from yellow to blue (nitrazine indicator) indicates the possible presence of amniotic fluid. Each Amnicator test is self-contained – with the only additional equipment required being a speculum.
A rapid visible negative result can give reassurance to mothers, while positive result indicates further investigation. Amnicators are low cost, convenient to carry, and need no special storage. The nitrazine test is widely used and accepted.
Easy and rapid detection of prematurely ruptured fetal membranes during pregnancy
Easy to use
Highly sensitive nitrazine yellow pH indicator
Differentiates between amniotic fluid and cervical mucus, vaginal mucus or urine
Detects even small amounts of amniotic fluid in the vagina
Room temperature storage
2 year shelf life
Colour change clearly visible in seconds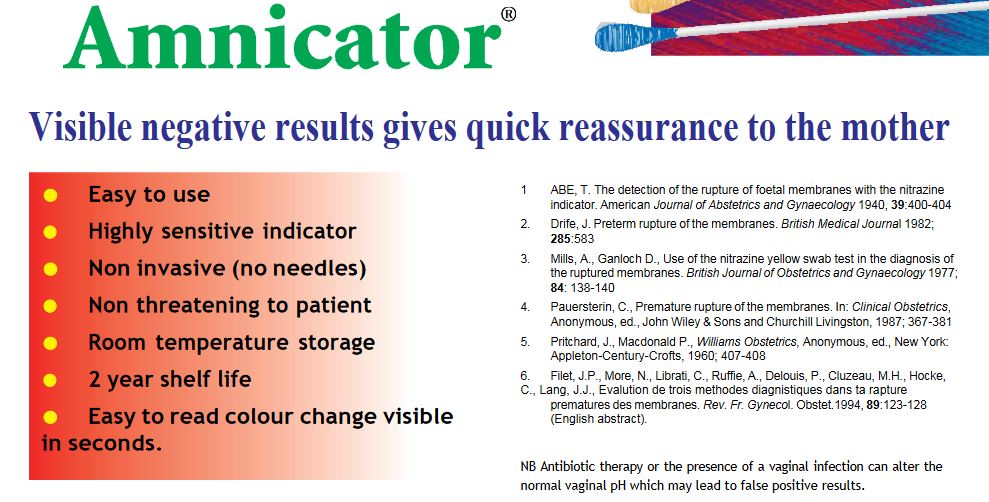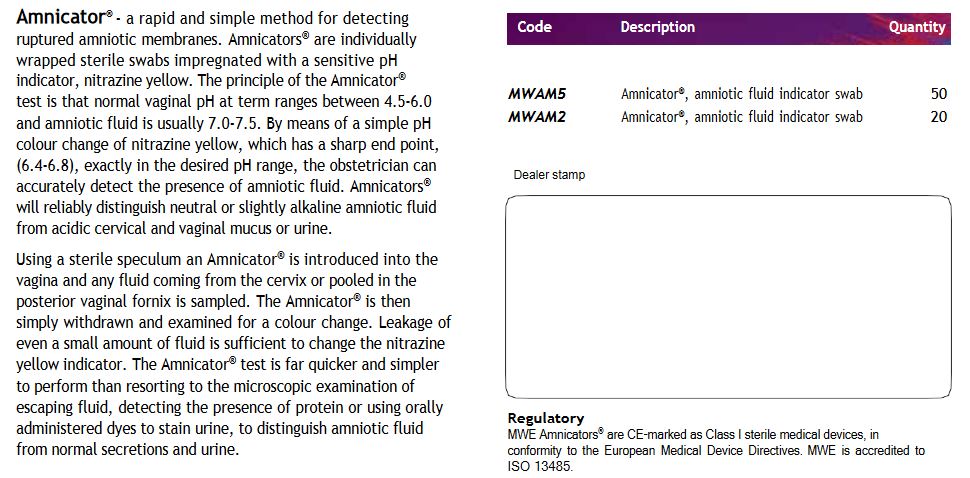 Standard warranty covered by the seller against any manufacturing defect. In such events, please report to us within 7 days from the date of delivery at connect@lumiere32.sg.
Overall Customer Rating:
0 customer reviews Sign In Or Register to post your reviews.
Sign Up
---