Reduce costs with the Invacare high flow oxygen concentrator.
The Invacare Platinum range of oxygen concentrators offers the best value added and reliable solution to the treatment of clients requiring long term oxygen therapy.
The latest addition to the range is the Platinum 9 high flow concentrator which is fully compatible with the Invacare HomeFill system.

Whilst optimising oxygen concentration, the Platinum 9 substantially reduces the costs associated with maintenance and delivery. This concentrator enables clients to live at home in comfort and safety where they can appreciate it's simplicity of operation including features such as the integrated alarms which alert any changes in equipment performance.

High performance, reliability and simplicity
Powerful and reliable, the Invacare Platinum 9 is very user friendly. With a 9 litre oxygen capacity and 95,6 – 87% purity the Platinum 9 is suitable for clients requiring high levels of oxygen supply. The unit is easy to use and manoeuvre with clear concise controls, integrated handle and compact castors.
Other features include:
• Easy access to the flow indicator
• On board O2 sensor monitors the level of oxygen
• On and off switch
• Automatic circuit breaker
• Easy access to the humidifier bottle
• Twin head compressor ensuring better reliability
Top handle
The quick access door (for BOTH inlet and outlet filters)
Low flow alarm
Diagnostics memory
Humidifier adapter storage
Quiet operation
Easy servicing
Service parts compatibility
HomeFill II compatibility (HFC)
Alarms and safety systems
Pressure-based system
Self-diagnostic electronics minimize troubleshooting time
One-piece hood for durability
Simplified PM schedule
Superior life cycle costs
Specifications
Oxygen Flow
9 LPM
Flow Range
1 – 9 LPM
Maximum Outlet Pressure
5 +/- 0.5 psi.
Pressure Relief Mechanism
35 psi +/- 3.5 psi
Oxygen Concentration
2.7 l/min ; 95.6 – 93%
8 l/min ; 95.6 – 91%
9 l/min ; 95.6 – 87%
Filter
Cabinet Compressor Inlet Outlet HEPA
Electrical Requirement
230 V, 50-60 Hz
Rated Current Input
4.0 A
Average Power Consumption
475W
Sound Level
< 50 db(a)
Oxygen Outlet Pressure
62 kPa
Oxygen Outlet Temperature
+2.2 / ambient temperature
Battery
No
Low Oxygen Flow Sound Alarm
< 1 l/min
Concentration Alarms
> 85% Green light
> 73% Yellow light
< 73% Red light and sound
Self-Diagnostic System
Failure Code
Dimension (DxWxH)
36.5 x 46.7 x 67cm
Weight
24kg (52.9 lbs)
Shipping Weight
26kg (58 lbs)
Limited warranty 3 years
no hour limit on the compressor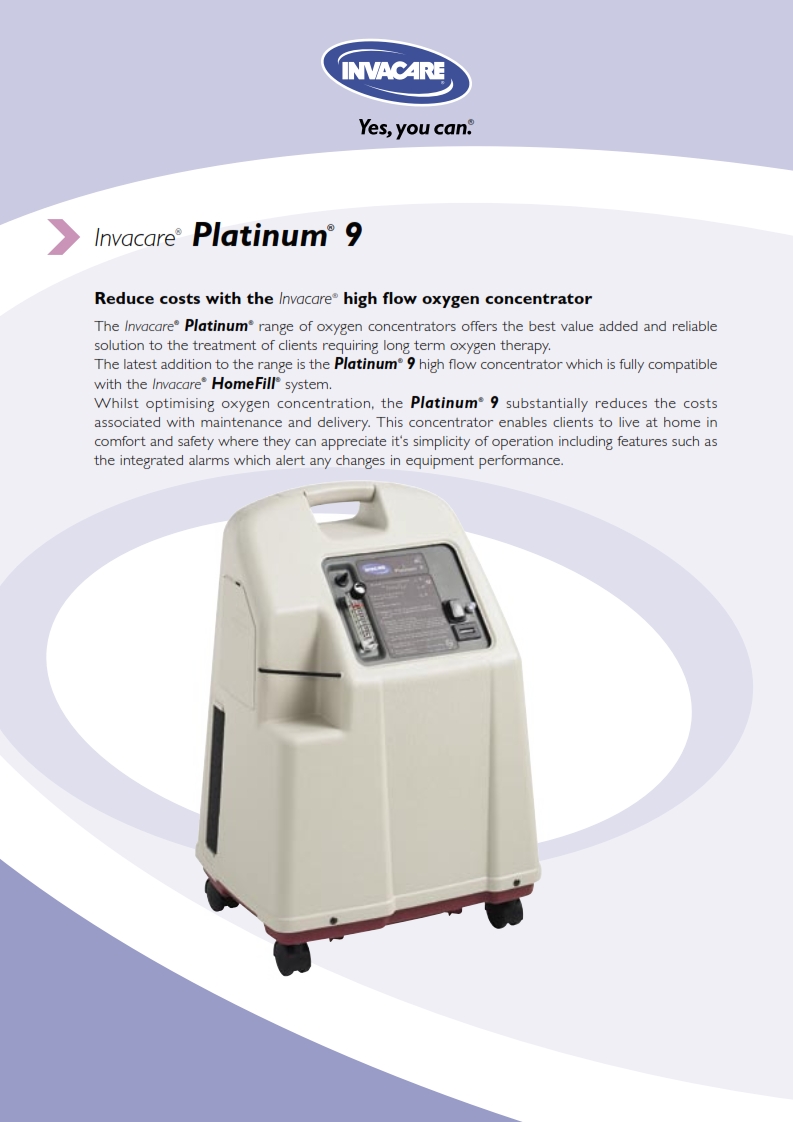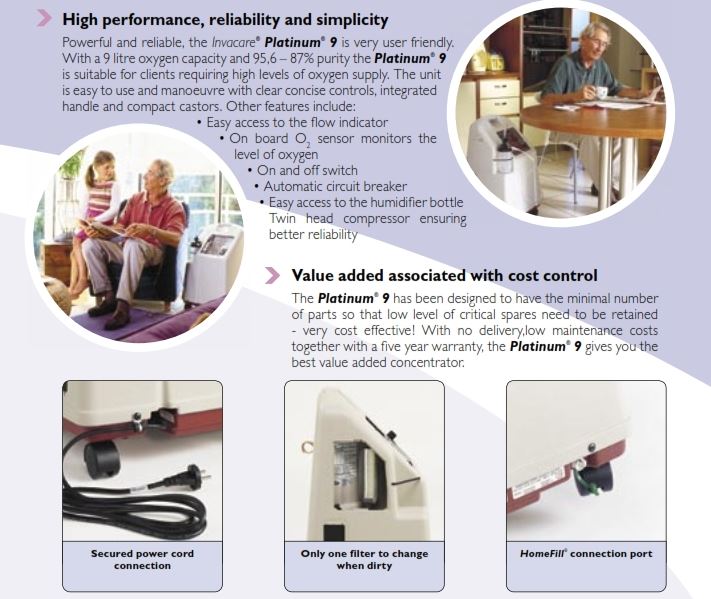 Standard warranty covered by the seller against any manufacturing defect. In such events, please report to us within 7 days from the date of delivery at connect@lumiere32.sg.
Overall Customer Rating:
0 customer reviews Sign In Or Register to post your reviews.
Sign Up
---