The Infinity360EZE System marks the next generation of UV-C disinfection.
It provides an evidence based, automated UV-C delivery mechanism that is effective against viruses, bacteria, super bugs and many other pathogens.
The Intinity360EZE is portable yet powerfull it has combined 200W UV-C using 8 U.V-C lights to ensure UVC energy to more compact areas with more efficacy.
The system leverages the power of IOT and can be controlled through a mobile application. The onboard sensors avoid accidental exposure to UV-C radiation.
Features
UV-C Disinfection System
Next-Generation Surface Sterilizer
Highly Effective against the coronavirus
Chemical-free and no residue after use
Operated via a mobile app
Functions with minimal human intervention
Easy to use and operate by any level of staff with minimal knowledge
The mobility of the device can easily move from room to room
360-degree motion sensor turns OFF the device in case there is any detection of a living being in the proximity
Rapid sterilization of air and surface
Stainless steel construction for high durability
The Infinity360 units can be controlled through a mobile application over Wi-Fi. The mobile app allows pairing of multiple devices into a network while providing access to determine/alter the optimum cycle length for each of those devices.
Package content (No. of pieces per pack)
1. INFINITY360 EZE
2. 5A Fuse
3. UV-C Bulbs
4. User Manual
5. 220V AC Power Cord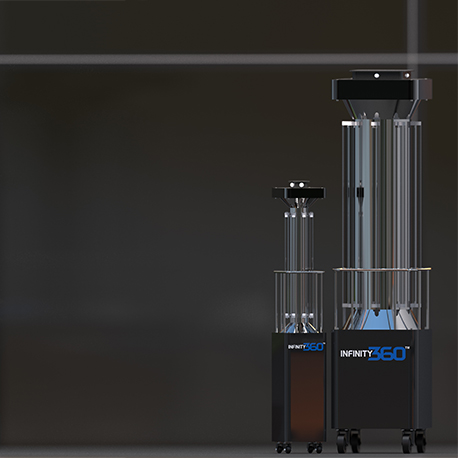 Specification :
UV Light Power – 200 W
UV Lifetime – 6000 Hours
Irradiation Intensity – 1500 µW/m2
Power Supply – 240 V/50Hz
Total Power – 200 W
Dimensions – 46 X 46 X 170 cm
Total Weight – 40 Kg
Where To Use Infinity360
Shopping malls
Hospitals
Gyms
Offices
Schools and classrooms
Hotel rooms and lobbies
Elevators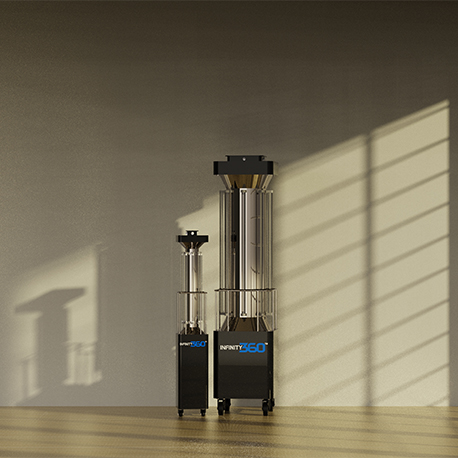 Standard warranty covered by the seller against any manufacturing defect. In such events, please report to us within 7 days from the date of delivery at connect@lumiere32.sg.
Overall Customer Rating:
0 customer reviews Sign In Or Register to post your reviews.
Sign Up
---