Autoclavable: It can be sterilized at 134 degrees.
Reasonable Match: Silicone material for the colorized part, electroplate material for the head part.
Comfortable Touch: The silicone rope is widened in the middle to reduce the discomfort caused by pressure.
Strong Clip: It can prevent items from falling.
Feature: Not adjustable but easy to clean.
Dental Bib Clip consists of a plastic part and the chuck. There are disposable and autoclavable ones available. It is mainly used for clamping and fixing dental bib during oral treatment.
The plastic part is made up of many spiral shapes, which can effectively stretch the length to meet the needs of different users, which is disposable. It can be autoclavable, up to 134º.
It holds the dental bib during oral treatment, the plastic part is silicone rubber, and the chuck is made of electroplate and can be used repeatedly. The color of the silicone chain is with Cotisen color style, various and soft.
Product Instructions
Take out of the dental bib clip and lay it on the patient's chest.
Hold one of the chuck on the dental bib, another chuck wrapped around the back of the patient's neck and then clipped onto the dental bib.
The clamping position can be adjusted as required.

Storage and Maintain Method
Please note: The product shall be stored in a dry, ventilated and normal temperature room whose relative humidity is not more than 80% and doesn't have corrosive gas. Otherwise, the surface of the clamp is easy to rust?
Avoidance of direct sunlight.
Prevention of extrusion and damage during storage.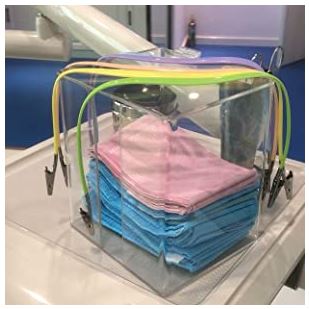 Standard warranty covered by the seller against any manufacturing defect. In such events, please report to us within 7 days from the date of delivery at connect@lumiere32.sg.
Overall Customer Rating:
0 customer reviews Sign In Or Register to post your reviews.
Sign Up
---