The Blueflow is the latest disposable flow sensor from Geratherm Respiratory used in conjunction with the Spirostik Blue. Due to its low resistance to flow, the Blueflow is especially suitable for patients with advanced diseases. No additional bacterial filter is required to protect patients from cross contamination something which would also increase both dead space and resistance. The Blueflow hygiene concept not only protects the patient, but also the user: The easy insertion and ejection of the Blueflow reduces the risk of cross contamination between patients. The Blueflow is packaged together with the softclip a disposable noseclip made of soft foam material that is both comfortable and effective for the patient.
The Blueflow together with the softclip noseclip offer the subject highest level of protection from cross contamination. With all spirometry systems bacteria and viruses contained in a patients exhaled air flow can adhere to the flow measurement device, most systems utilise the bacterial viral filter in an effort to reduce the risk of cross contamination between patients. The Blueflow removes this risk completely, by simply replacing the flow sensor there is no cross contamination risk. The Blueflow also utilises a simple 'snap in handle' design meaning that there is a lower contamination risk for the user as the sensor can be installed and removed without touching.
Accuracy is paramount with all Geratherm Respiratory products and the Blueflow flow sensor is no exception, the production process is continually monitored and tests performed with sensors from each batch to ensure the sensors meet the exacting standards of the ATS/ERS flow measurement specifications. Allowing the system to be calibrated with the input of the sensor code removes the requirement for calibration with a calibration syringe before every test. Ensuring every test is accurate and safe.
As the Blueflow is a single patient use flow sensor there is no requirement for further bacterial viral filters this in turn ensures there is no increase in either dead space or resistance of the system. The existing low dead space and resisitance mean that the Bueflow is ideal for spirometry testing in small children or patients with advanced disease states.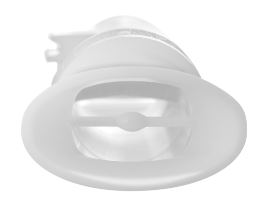 Standard warranty covered by the seller against any manufacturing defect. In such events, please report to us within 7 days from the date of delivery at connect@lumiere32.sg.
Overall Customer Rating:
0 customer reviews Sign In Or Register to post your reviews.
Sign Up
---