Liquid antiseptic gel for the hands with friction, without the use of water. Apply insoluble on intact skin.
ANIOSGEL 85 NPC is an alcoholic antiseptic hand gel licensed by EOF. It contains ethanol as the main active ingredient for the rapid and effective destruction of a wide range of microbes. It also contains moisturizing and emollient agents that offer skin care and make the product ideal for frequent use. It is dermatologically tested, does not contain allergens, perfume or dyes. It is in accordance with the European Standards EN 1500 and EN 12791 for the hygienic and surgical antiseptic of the hands.
Disinfectant Action:
The disinfectant spectrum of ANIOSGEL 85 NPC includes bacteria, mycobacteria, fungi, yeasts, viruses.
Approvals:
Approved by the EOF. No. patent 17713 / AP-509 as a biocidal product for hand antiseptic. It is included in the positive list of disinfectants of the French Hygiene Organization SFHH.
Instructions for Use:
Hygienic antiseptic 3 ml for 30 seconds, Surgical antiseptic, 2x3 ml for 1 minute. Always read the manufacturer's instructions for use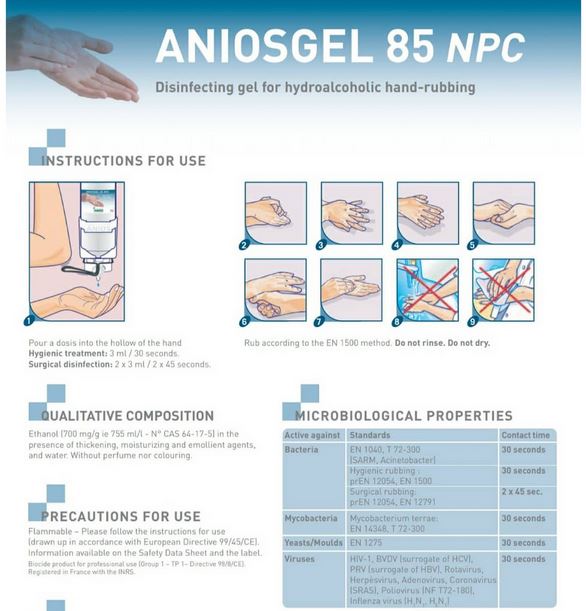 Standard warranty covered by the seller against any manufacturing defect. In such events, please report to us within 7 days from the date of delivery at connect@lumiere32.sg.
Overall Customer Rating:
0 customer reviews Sign In Or Register to post your reviews.
Sign Up
---