Main Frame
CarbonFiber tubing, Safety Detachable Wrist Cord
Base
Medium Quad Base + Self Standing Anti-Slip Tip
KEY FEATURES:
Handle:
Angle adjustable Torchlight
Safety Red Flashing Lights
Manual Alarm
Build-in Lithium-Ion Battery
Body:
Carbon Fiber tubing
Height Adjustable (User 1.4m to 1.8m)
Safety Detachable Wrist Cord
Interchangeable Base Design
Medium Quad Base
Anti-Slip Self-Standing Tip
Handle:
1. The build-in Torchlight illuminates the passageway with adjustable viewing angles. The lights improve visibility for the user who needs to go to the restroom from their bed.
2. Red Flashing Lights It enables the user to be visible to other road users (car and scooters), making walking in the evening safer.
3. The Manual Alarm can be triggered when it falls and attracts attention in an emergency.
Some user uses this alarm to get attention from the caregiver when they need help in the toilet, and their caregiver is busy in the kitchen.
4. Build-in Lithium-Ion Battery allow easy charging with USB charging cables. Charging Time of 2 hours enables about 10 hours of lights operations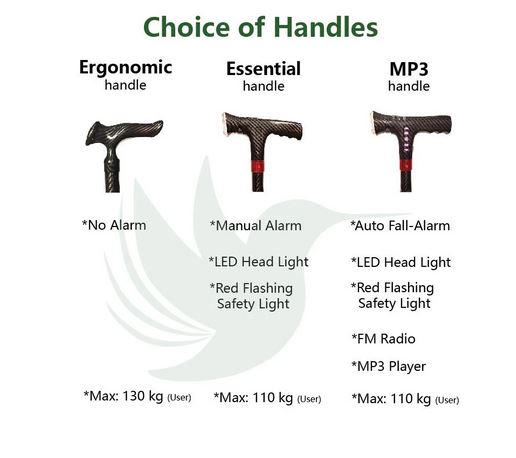 Body:
1. Extremely light and strong tubing reduces the weight through Carbon-Fibre, enabling better handling, especially for the elderly who are frail.
2. 10 adjustable steps suitable for users range from 1.4m to 1.8m.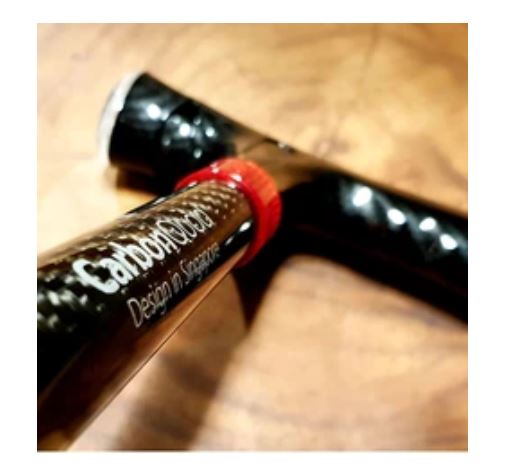 3. Designed to ensure that the walking stick will not obstruct the user when breaking fall. Upon sudden excessive force applied to the wrist cord, it will automatically be detached and thus reducing the chance of having the walking stick obstructing the user.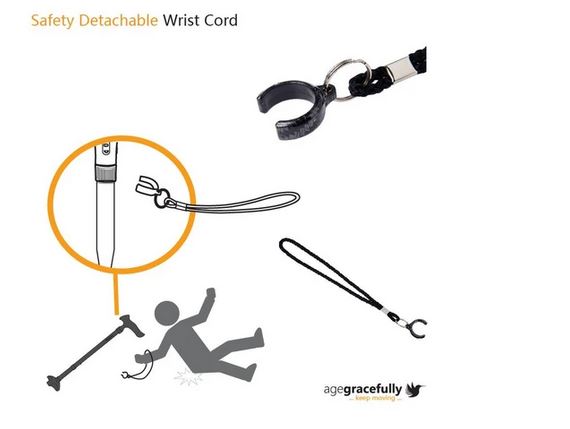 4. A patient who suffers from hip or leg injury will typically start using a quad cane to support them. As they journey through their recovery process, they will need a walking stick with a smaller tip. The interchangeable base enables the user to replace the quad-base/tip instead of purchasing a new walking aid to suit their condition.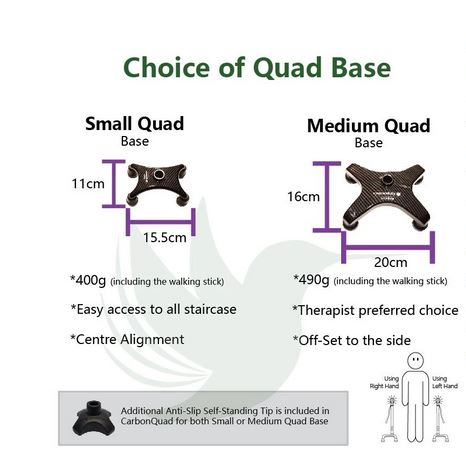 5. The Medium Quad Base is centrally aligned to enable flexibility in changing hands. The low-profile design eliminates accidental tripping, and the small surfaces area ensure accessibility to all types of stairs.
BOX CONTAINS:
Carbon Quad with Medium Quad Base
Anti-Slip Self Standing Tip
Detachable Wrist Cord
Locking Screw
Allen Key
Charging Cable
User Guide
SPECIFICATIONS:
1. Height adjusts: 67cm - 89cm [26" - 35"]
2. Medium Quad Base: 20 x 16 cm [8" – 6"]
3. Tip Internal Diameter: 19mm [7.5"]
4. Box dimensions: 57 x 16 x 8 cm [22" x 6" x 3"]
5. Box weight: 1000g [2 lbs]
6. Product weight: 490g [1 lbs]
7. Rechargeable Lithium-ion battery: 3.7v 550mAh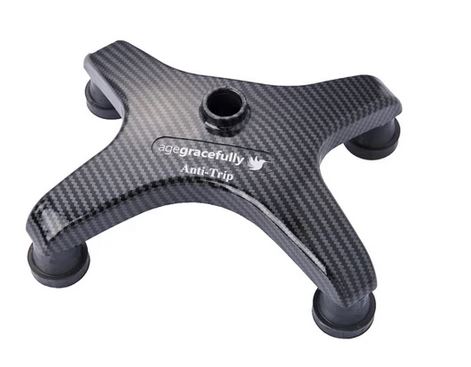 6. The Anti-Slip design provides excellent traction on contact to flat surfaces. The soft pivoting joint encourages natural walking motion and reduces stress on the elbow.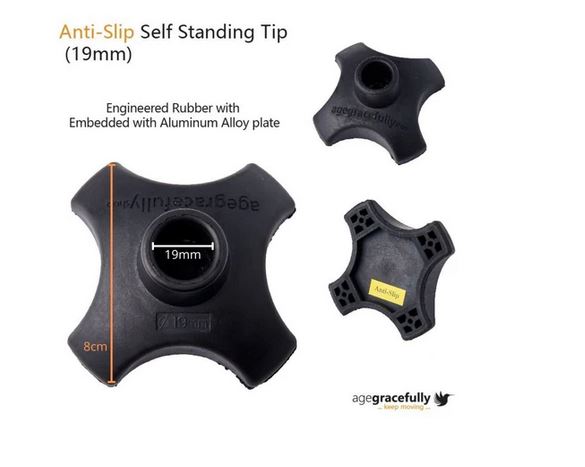 THE GENESIS:
Our calling is to inject vibrancy into the life of the elderly by developing an ecstatically pleasing and functional product for the elderly. Our Smart Walking Sticks collections had gained traction in the marketplace through our continuous product refinement upon gathering numerous feedback and suggestions from the clients and health care professionals.
CarbonQuad is an improvement from the typical quad sticks.
The IKEA furniture inspires us where it seems like everything can be bolt and flat-packed. Thus, we had made the base interchangeable.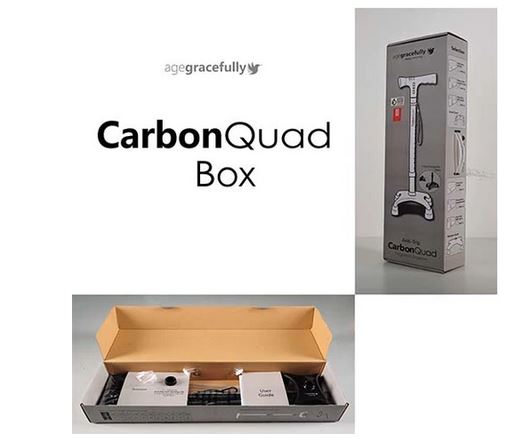 Standard warranty covered by the seller against any manufacturing defect. In such events, please report to us within 7 days from the date of delivery at connect@lumiere32.sg.
Overall Customer Rating:
0 customer reviews Sign In Or Register to post your reviews.
Sign Up
---