3M Impression Tray
Try our truly unique, single-use impression tray designed with a fleece strip to keep impression material in the tray, eliminating the need for tray adhesive.
Revolutionary self-retentive fleece strip eliminates the need for a tray adhesive for fewer handling steps.
Simplified process saves time--up to five minutes per procedure.
Retentive fleece features striations that act as a barrier to avoid tooth/tray contact and occlusal flat-spots for better impression results.
Innovative, directed-flow design minimizes flow defects and distal voids for more accurate impressions.
Surrounding retention lip reduces material overflows.
Built-in reservoir reduces gagging for better patient comfort.
Single-use tray means there is no need to disinfect and clean, as with metal trays, for improved infection control.
Delivers outstanding quality, accurate results and easy handling.
Rigid material provides the stability that is ideal for both preliminary and final impressions.
No unpleasant odor or mess from a tray adhesive.
Tray can be customized, if needed.
Eliminate the need for a tray adhesive and simplify both preliminary and final impressions with this innovative, single-use tray from 3M.
Suggested Applications
Final crown and bridge impressions
Preliminary impressions
Counter, study and orthodontic models
Matrix for temporary crown and bridges
Bleaching Trays & Mouth Guard Impression
Fabrication of splints
Mouthguards
Fabrication of splintsFinal impressions:
Crown procedures
Bridge procedures
| | |
| --- | --- |
| Catalog Number | 71617 |
| Mandible | Upper |
| Size | Large |
| Tray Size | Large |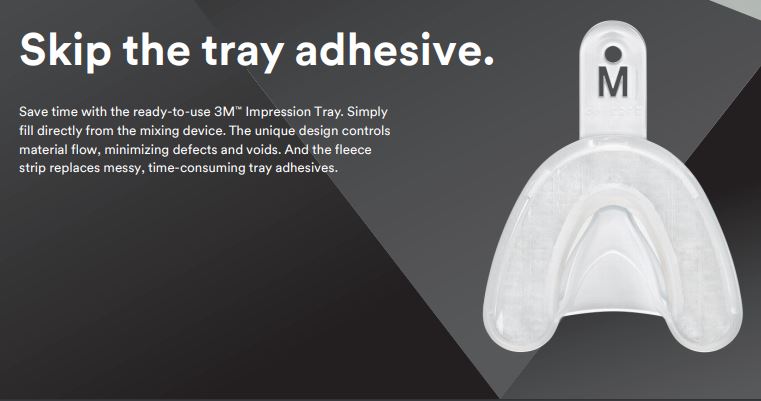 Standard warranty covered by the seller against any manufacturing defect. In such events, please report to us within 7 days from the date of delivery at connect@lumiere32.sg.
Overall Customer Rating:
0 customer reviews Sign In Or Register to post your reviews.
Sign Up
---