The extra fine tip fits directly into the sulcus.
Enables a clean, dry sulcus and robust hemostasis.
Hygienic unit-dose capsule.
Versus dental retraction cords:
Convenient and time-saving retraction process: Up to 50% faster.
Lower risk of hemorrhage.
Gentle on tissue for improved patient comfort.
Versus competing pastes:
Easy access into the sulcus.
Better interproximal access due to capsule's extra-fine tip.
Compatible with most composite dispensers.
Get easy access to the sulcus with 3M Astringent Retraction Paste patented extra fine tip. The retraction paste dispenses easily using common composite dispensers and effectively deflects marginal gingiva.
NOTE: The content of one unit dose capsule is sufficient to treat up to three teeth. The capsules are for single use and must not be used on more than one patient.
Suggested Applications
3M Astringent Retraction Paste is indicated for the temporary tissue retraction of the marginal gingiva to provide a dry sulcus when the periodontium is healthy, such as:
taking impressions (material-based or digital)
preparation of temporary casts
preparation of Class II and V fillings.The product must not be used in patients suffering from a diseased periodontium, open furcations or exposed bone.
BRAND : 3M Astringent
COMPOSITION/INGREDIENTS : 15% Aluminum Chloride
ITEM : Retraction Paste
PACKAGING TYPE : Value Pack
QUANTITY : 100/Package
VISCOSITY : High Viscosity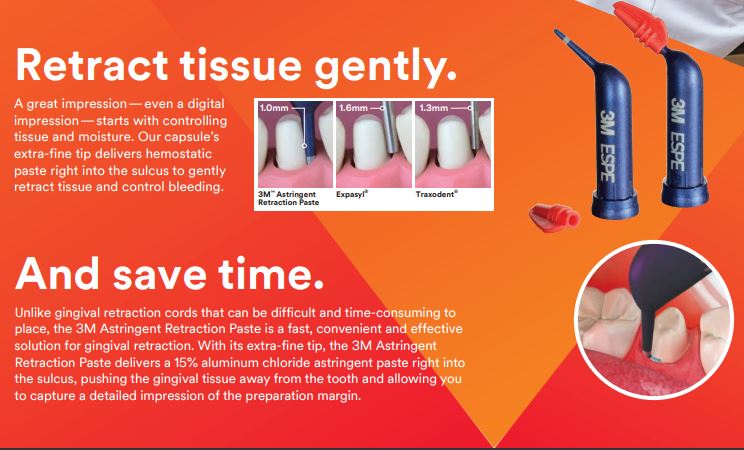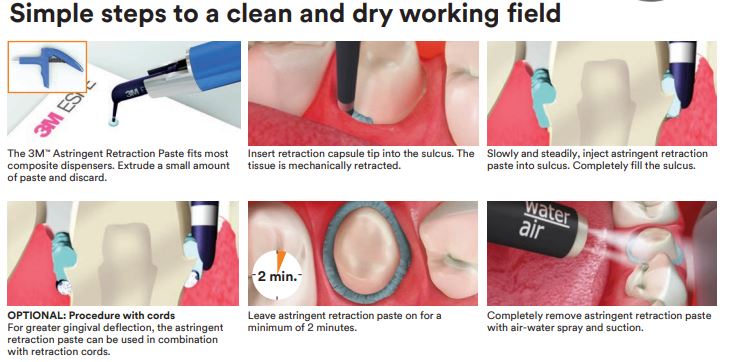 Standard warranty covered by the seller against any manufacturing defect. In such events, please report to us within 7 days from the date of delivery at connect@lumiere32.sg.
Overall Customer Rating:
0 customer reviews Sign In Or Register to post your reviews.
Sign Up
---