OPACAL is a calcium hydroxide paste in the syringe for the temporary root canal dressing, the pulp capping and the cavity lining? before the filling.
Opacal Designed specifically for temporary root canal dressing with high pH value (>12.5), perfect radiopacity and ideal creamy consistency. Its aqueous composition and the rapid ionic release deliver optimal performance in short treatment time procedures. The unique consistency offers a perfect paste reachability (as close to the apex) and reduces the need for Lentulo instruments. Calcium hydroxide paste also restores pulp vitality, promotes the regeneration of secondary dentine and helps to reduce the sensitivity of freshly cut dentine.
Composition: Calcium Hydroxide 30%, Barium Sulfate 24%, excipient
Opacal Calcium Hydroxide Paste:
Ref 11020 1 syringe of 3 ml 8 single-use application tips 1 finger grip
Key benefits:
High pH value and stable over time high radiopacity ideal creamy consistency perfect and comfortable paste delivery easy to remove (non-setting material) rapid ionic release and pH turnover.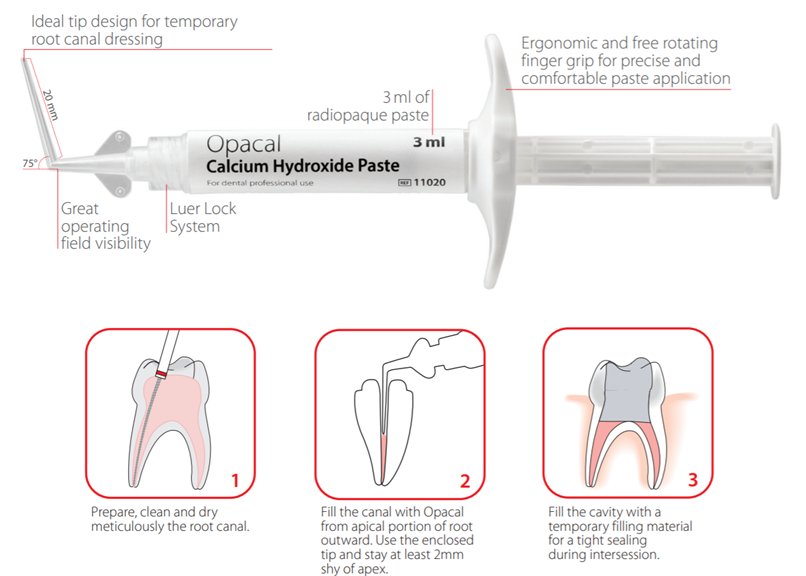 Standard warranty covered by seller against any manufacturing defect. In such events, please report to us within 7 days from date of delivery at connect@lumiere32.sg.
Overall Customer Rating:
0 customer reviews Sign In Or Register to post your reviews.
Sign Up
---