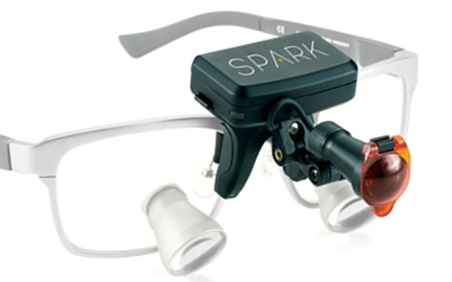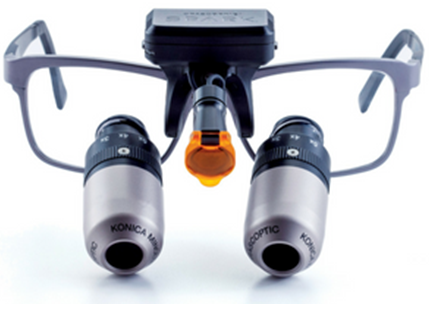 Overview
Integrating with virtually any loupe or eyewear frame model, Spark™ is our innovative patent-pending cordless headlight.
The unique design dispenses weight evenly across the bridge of the frame minimizing pressure on the clinician's nose.
When co-axially mounted to one's loupes, the Spark reduces shadowing in the operating area.
Features
UNIFORM ROUND SPOT
A precise focused light provides enhanced visibility during procedures
BLUE LIGHT COMPLIANT
Maintains compliance with bluelight testing standards for safety set by the International Electrotechnical Commission (IEC)
CONSTANT CURRENT TECHNOLOGY
Brightness will not diminish over the run-time of the battery pack
ADVANCED CAPACITIVE TOUCH CONTROLS
Power light on and off with ease between procedures and patient consultations
VERSATILE POWER CHARGER
A micro USB charger offers added convenience for charging on the go
LOW BATTERY NOTIFICATION
A low battery indicator illuminates when battery capacity is below twenty percent
Specifications
Headlight Specifications:
Weight:
1.12 oz (31.8 g)
Light Intensity:
32 lumens
Color Temperature:
6500° K
Focus:
2.75" (6.98 cm) spotlight at 12" (30.5 cm) focused beam
Composite Filter:
Curing filter included
Battery Specifications:
Est. Battery Life:
6 hours (2 batteries)
Est. Charging Time:
up to 2 hours
Type:
Lithium Ion
Standard warranty covered by the seller against any manufacturing defect. In such events, please report to us within 7 days from the date of delivery at connect@lumiere32.sg.
Overall Customer Rating:
0 customer reviews Sign In Or Register to post your reviews.
Sign Up
---