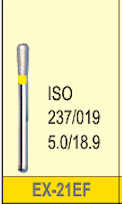 - Mani Diamond Bur,
- EX-21EF
- Extra- Fine Grit
- Yellow Band
- 5pcs/pack
-Max speed 300,000 RPM
- ISO 237/019 FG
Standard warranty covered by seller against any manufacturing defect. In such events, please report to us within 7 days from date of delivery at connect@lumiere32.sg.
Overall Customer Rating:
0 customer reviews Sign In Or Register to post your reviews.
Sign Up
---