GP320-UE 2nd Gen Reusable N95-Grade Face Mask+ 50Pcs N95 Refill Filters
REUSABLE & RUGGERED: Ergonomically designed REUSABLE RESPIRATORY Face MASK for SAFETY and COMFORT to your face with EASY-Replaceable DISPOSABLE 3-Ply Filters for MANY MONTHS of REUSE. Package comes with 1 x REUSABLE Food-Grade Plastic Protective MASK + 50 pcs of 3-Ply REFILL Filters.
SMALLER MASK SIZE contents LESS exhaling breathe trapped in the mask cavity RECYCLING thus reduces HEAT & HUMIDITY, hence MORE FRESH & COOLER air is inhaled during EACH Breathing-in cycle.
PREMIUM QUALITY: eGeePro Mask has been tested to COMPLY with U.S ASTM F2100, Europe's EN14683 and EN149:2001-A1:2009 Standards for Face Masks and Respirators. Effective against fine dust/smoke particles.
SUPERIOR PERFORMANCE: eGeePro Reusable Respiratory Face Mask is designed and built with a unique features to SEPARATE CHAMBERS between nose and mouth cavities preventing droplets cross from mouth to nose chambers thus achieving: (1) Better Hygiene (less droplets from mouth cross to nose chamber) (2) Strength/Ruggedness (strong food-grade plastic protective cover). (3) Breathability Comfort (less Odour). CAUTION: please use mask correctly to avoid serious consequences caused by improper use
WIDE APPLICATIONS: Applicable for both INDOOR and OUTDOOR Use such as Factories, OUTDOOR Sites Workers, Security Guards, Offices employees, Shops Keepers and Personal Users, Governmental Departments & School Students.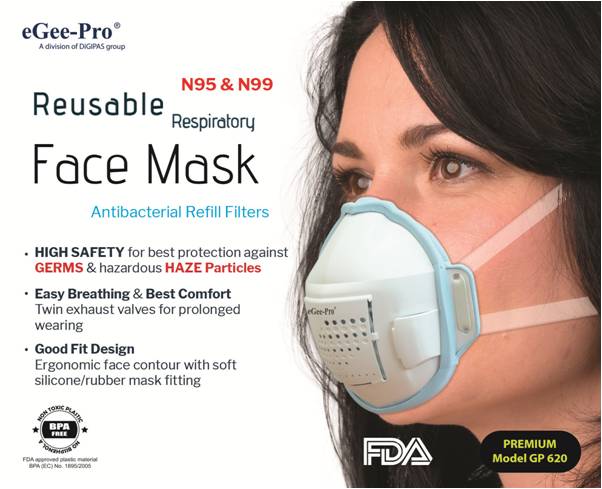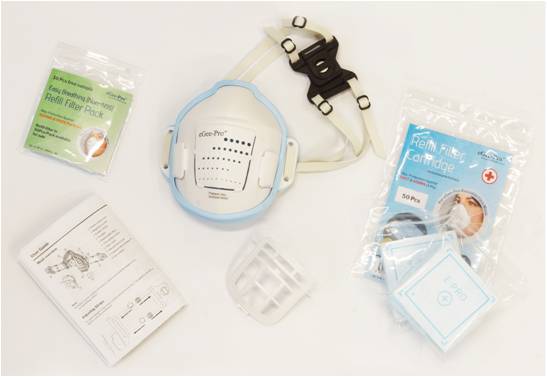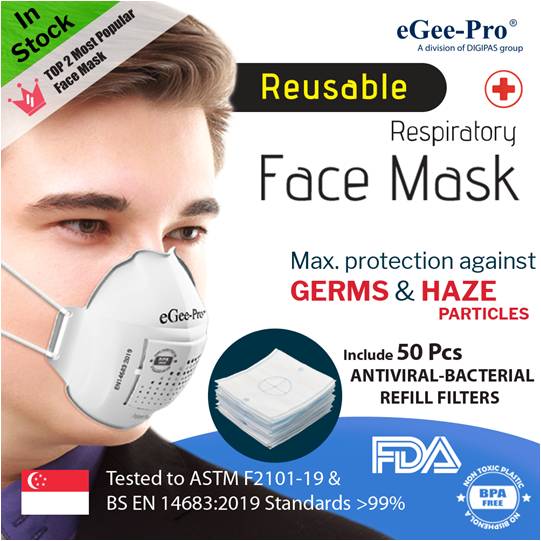 GP320-UE 2nd Gen Reusable N95-Grade Face Mask+ 50Pcs N95 Refill Filters
eGeePro 2nd Gen Standard REUSABLE N95-Grade Face MASK (Model GP320-UE) + 50 Pcs N95-Grade ANTIVIRAL-BACTERIAL Refill Filters for Protection Against GERMS & VIRUSES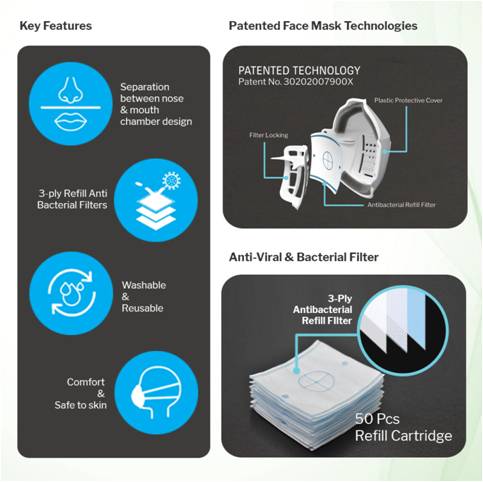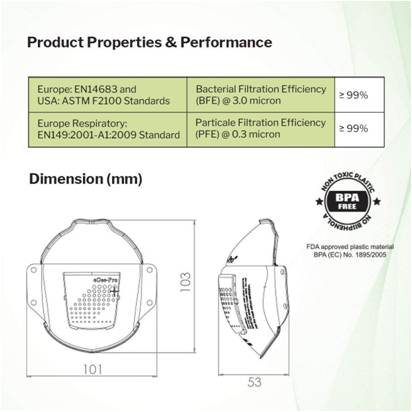 Standard warranty covered by the seller against any manufacturing defect. In such events, please report to us within 7 days from the date of delivery at connect@lumiere32.sg.
Overall Customer Rating:
0 customer reviews Sign In Or Register to post your reviews.
Sign Up
---