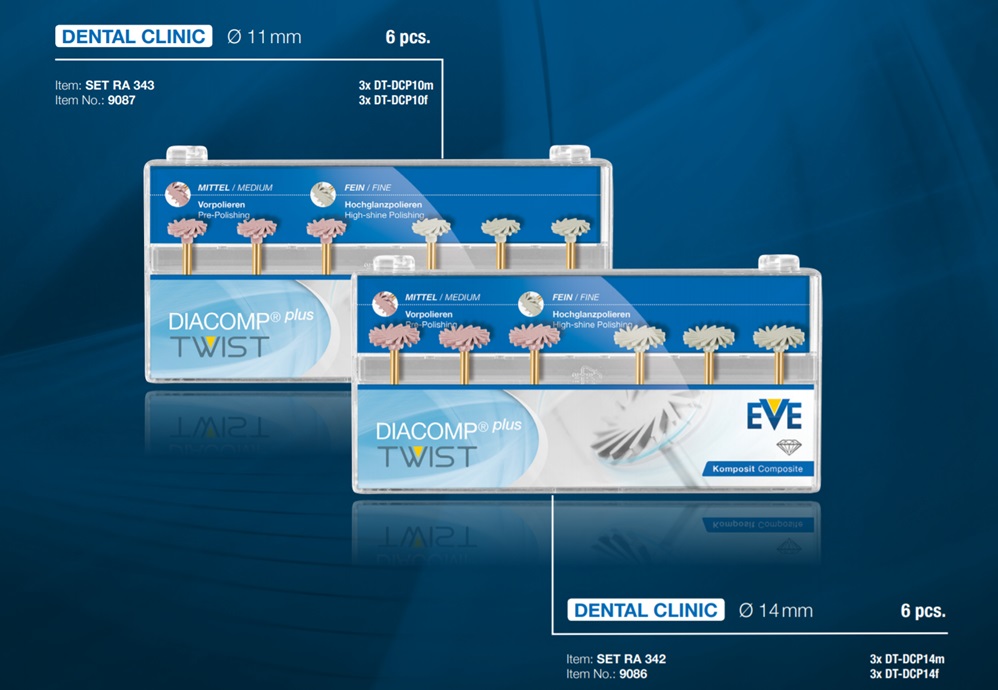 - 2-step polishing system for high shine on all composite materials
- Polishers specifically adapted to each processing step
- Best results even on very hard composites
The TWIST Concept has changed the nature of
polishing. The innovative lamellar shape and the
resulting adaptation to any surface structure simplifies
every polishing process.
The numerous advantages have made TWIST polishers
indispensable instruments in the daily work of
many dentists and dental technicians. Their intuitive
use makes them the ideal polishing tool. The flexibility
and the resulting adaptation to any surface structure
facilitates polishing in inaccessible places, such as
occlusions.
Following the success of the TWIST shape in the EVE
product series Diacomp® Plus and Diapol®, the TWIST
Concept is now also applied to the Diapro and Diacera
versions. So users now has TWIST polishers at their
disposal which are especially adapted for silicate
ceramic and oxide ceramic. Outstanding polishing
results can now be achieved with this hard-to-process
materials in next to no time.
Furthermore, EVE presents a special product series
for processing temporary materials in the dental lab.
EVE Diatemp offers the dental technician an effective
polishing solution for temporary and permanent acrylic
materials, PMMA, hybrid ceramics, hybrid composites
and veneer acrylics. In addition, the TWIST range is
expanded for the dental lab with a 26 mm diameter
version.
Standard warranty covered by the seller against any manufacturing defect. In such events, please report to us within 7 days from the date of delivery at connect@lumiere32.sg.
Overall Customer Rating:
0 customer reviews Sign In Or Register to post your reviews.
Sign Up
---