GP980 INTELLIGENT: 3rd GEN. SMART & REUSABLE Face Mask + 10 Pairs (N95) + 10 Pairs (Easy Breathing)
This 3rd generation mask is an INTELLIGENT TRANSLUCENT mask built with ELECTRONIC SPEAKER & LED LIGHT to achieve VISIBLE FACIAL EXPRESSION (day & night), CLEAR VOICE VOLUME & TEMPERATURE SENSING driven by eGeePro App particularly designed for users in hospitality sector to enhance vitality of services and attention.
The extended SIZE on the mask compared to its predecessor and added a layer of SOFT Silicon-Rubber (fitting) and USER-ADJUSTABLE rubber string length (tightness) ensure TIGHT FITTING to variety of face contour preventing surrounding contaminated air entering from interface gaps between facial skin and mask cover during inhaling.
The design of eGeePro respirator is superior compared to conventional N95 respirators which were previously not built for prolonged period of wearing. In contrast, eGeePro respirator is incorporated with soft silicone-rubber to provide cushion achieving user-adjustable tight-fitting yet comfortable for prolonged hours of wearing.
This PREMIUM class of intelligent mask is preloaded with an N95 or N99-Grade Anti-viral and Easy Breathing refill filters.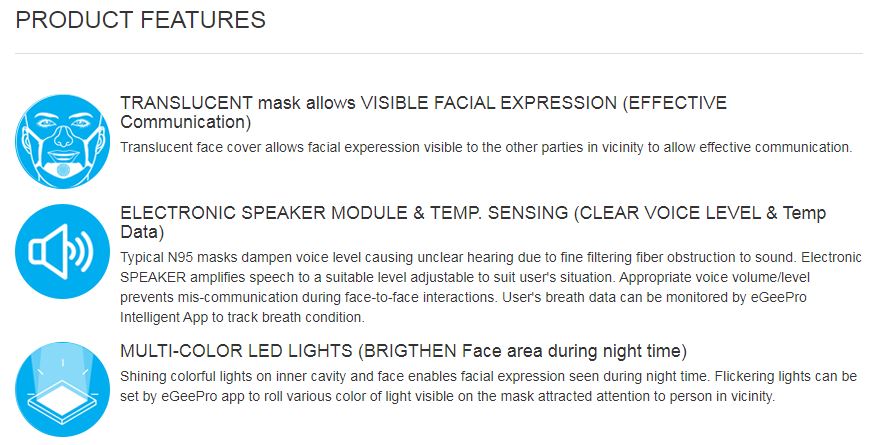 Applications
INDOOR Factories, and OUTDOOR Construction Sites Workers, Security Guards

Offices employees, Shops Keepers and Personal Users

Governmental Departments & School Students etc.
eGeePro MASK STRUCTURE
The noble design of patented eGeePro Reusable Respiratory Face Mask encompassed a PARTITION between nose and mouth chambers segregating droplets generated from mouth to nose chamber whenever user speaks thus achieving good hygiene, strength/ruggedness and breathability comfort.

The 3-Ply Antiviral-bacterial Filter is easily placed in-between a cap to securely fixed to the plastic mask cover, ensuring inhaling air creating a suction pressure forcing the mask to nicely fit into face thus minimize air leakage into other unwanted area

SMALLER SIZE plastic PROTECTIVE cover of the mask is specifically designed to MINIMIZE the amount/volume of exhaling air trapped/recirculating in the mask chamber re-inhaled. So MORE FRESH filtered AIR is INHALED on each breathing-in cycles.

SHARP DOWN-SLOP CONTOUR design on upper-nose outer area of the plastic protective mask ensure EYES VISION is not obstructed preventing any downward BLIND SPOT when wearing the mask for any activities.
SANITIZING eGeePro PLASTIC MASK COVER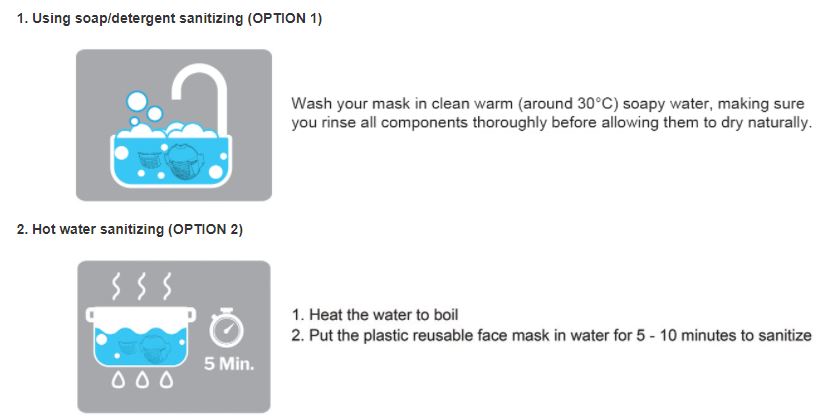 Advantages
Reusable CLOTH/COTTON/FABRIC masks usually its filtering quality degrades each time is WASHED & DRIED. The certainty on the quality of filtering diminishing every time the mask is washed. In contrast, eGeePro mask's FILTER can be CHANGED everyday with a BRAND NEW filter ENSURING CERTAINTY no degradation on QUALITY PERFORMANCE of the mask each day.
When wearing Surgical or Cloth Masks, its soft material tend to FALL TOUCHING outer NOSE SENSITIVE SKIN which often resulting ITCHINESS that further triggering fingers to SCRATCH the nose. These recurring touches would likely to result in any AIRBORNE DROPLETS on the surface of mask being SQUEEZED into the CENTER & INNER LAYER of the mask. If such droplets content GERMS, then these germs will increase the RISK to reach lungs when inhaled with each breathing-in.

In contrast, eGeePro protective mask uses a HARD PLASTIC COVER whereby its inner surfaces do NOT touch the nose skin preventing itchiness or the need to stretch the nose thus mitigate the risk of airborne droplets being squeezed by fingers into inner filter layers.
Most one-time-use or reusable masks do NOT segregate nose and mouth areas. mixture of exhaling air from mouth trapped in both cavities of the mask generate unpleasant Odor (SMELL) obvious during cycles of re-inhaling. Patented eGeePro Reusable Mask reduces droplets crossing from mouth to nose cavities within the mask thus minimizing UNPLEASANT ODOR found in commonly available Cloth/N95 masks especially with prolonged used.

ADVANCED MANUFACTURING FACILITIES WITH CLASS 8 CLEANROOM FOR MEDICAL DEVICES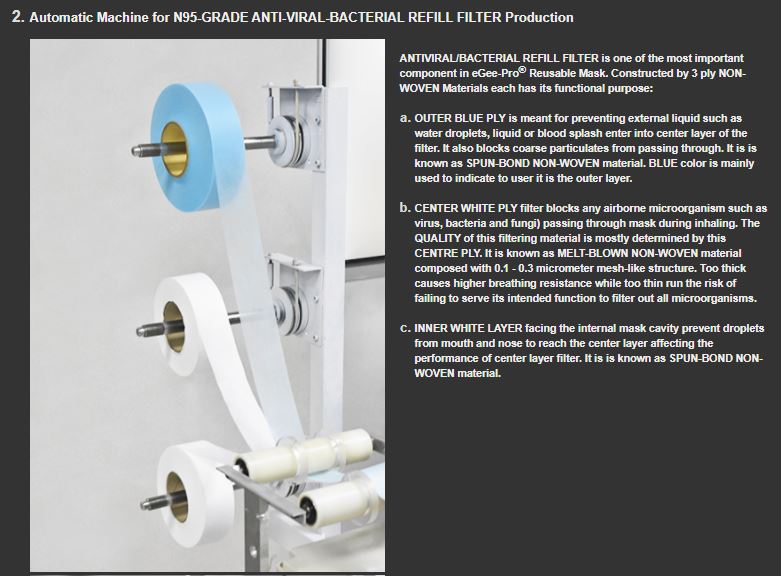 Standard warranty covered by the seller against any manufacturing defect. In such events, please report to us within 7 days from the date of delivery at connect@lumiere32.sg.
Overall Customer Rating:
0 customer reviews Sign In Or Register to post your reviews.
Sign Up
---