Dobu N95 Particulate Disposable Respirator #201(25pieces/Box)
Technical Specification
Item: Particulate Disposable Respirator
Product Name: 201
Type: 2D Folded type
P2 Grade Filter
The Dobu Mask 201 series filtering facepiece respirators are NIOSH approved.
And designed to help provide respiratory protection against certain airborne contaminants when used in accordance with all use instructions and limitations and applicable safety and health regulations.
SPECIFICATION
• Disposable & Single use Mask
• Configuration : 3 Layer
• Filter efficiency : Min. 95%
• Approved by NIOSH(N95)
• 100 % made in Korea and other raw material of
qualified supplier's product from Korea
LAYER OF FILTER DETAIL
•OUTER VEIL
•MELT BLOWN FILTER
•INNER VEIL
Package Single Package -Dimension 11cmX20CmH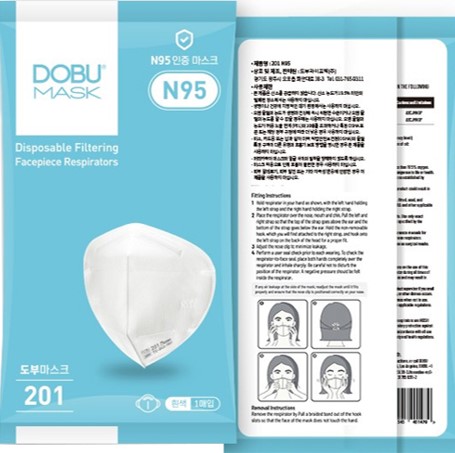 Package Box -Dimension 12cmX12cmX20CmH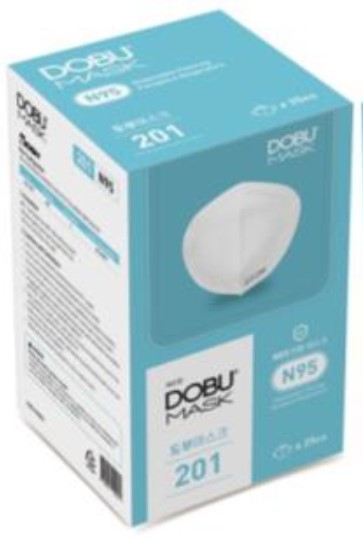 Package Out Box -Dimension 25cmX62.5cmX45CmH
Standard warranty covered by the seller against any manufacturing defect. In such events, please report to us within 7 days from the date of delivery at connect@lumiere32.sg.
Overall Customer Rating:
0 customer reviews Sign In Or Register to post your reviews.
Sign Up
---