The Scope of Application
Pulse oximeter is a very important and common device to check patient blood-oxygen saturation (SpO2) level and pulse rate. As a small, compact, simple, reliable and durable physiological monitoring device, Fingertip pulse oximeter greatly enhances patient care. It is widely applied in clinic, hospital, social medical organizations, first aid and so on.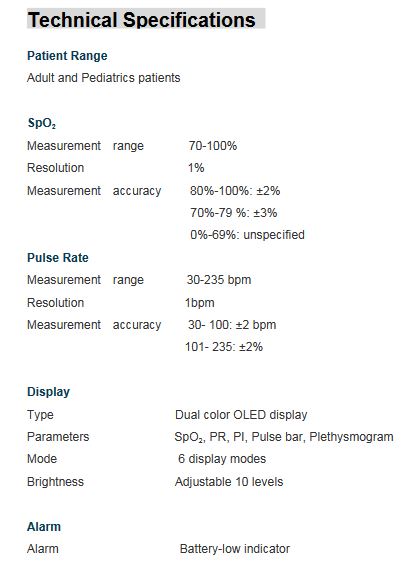 Features
Small & lightweight design ( total 28g without batteries )
Dual color OLED display
Display SpO2,PR,Pulse bar and Plethysmogram
6 display modes
Low power consumption, automatically power off
Battery-low indicator
2 AAA alkaline or rechargeable batteries
Adjustable brightness
Accommodates widest range of finger sizes from pediatric to adult
Mechanical
Dimension 58mm(W)×32mm(H)×34mm(D)
Weight 28g (without batteries)
Battery
Type 2 AAA alkaline or rechargeable batteries
Operation time about 40 hours for normal operation
Environmental
Operation Temperature 5°C-40°C
Storage Temperature -20°C-55°C
Operation Humidity RH≤85%
Storage Humidity RH≤85%
Electromagnetic Compatibility
This product complies with IEC60601-1-2 for electromagnetic
compatibility Class B
Interference Resistance Capacity against Ambient Light
Deviation is smaller than ±1% between values of Oxyhemoglobin
measured in natural lighting indoor condition and present lighting sources
and that measured in dark room
Standard warranty covered by the seller against any manufacturing defect. In such events, please report to us within 7 days from the date of delivery at connect@lumiere32.sg.
Overall Customer Rating:
0 customer reviews Sign In Or Register to post your reviews.
Sign Up
---