Absorbable monofilament suture made of glyconate.
Considered a midterm suture in regard to absorption as it retains 50% of tensile strength up to 14 days.
Exceptional knot security and knot tensile strength.
Smooth monofilament for ease of passage through tissue.
Braided suture "feel"
Absorbed via hydrolysis
Violet color for easy identification
Monosyn is a sterile synthetic absorbable monofilament surgical suture produced from a copolymer of 72% glycolide, 14% ε-caprolactone, 14% trimethylenecarbonate. Monosyn is dyed violet with the dyestuff D&C Violet No 2 (colour index number 60725), but is also available undyed (beige). Monosyn fulfils all the requirements of the European Pharmacopoeia and of the United States Pharmacopoeia for sterile, synthetic absorbable monofilament sutures, except for minor variations in suture diameter.
Indication
Monosyn is indicated for use in general soft tissue approximation and/or ligation in general surgery, gynaecology, oral surgery, including skin closure, when surgical practice requires the use of an absorbable suture material but not for use in cardiovascular, ophthalmic or neurological tissues.
Typical applications are:
Subcutaneous and intracutaneous sutures.
Mesh fixation in general surgery.
Gastro-intestinal anastomosis.
Ovarian, uterus or vaginal mucosa closure.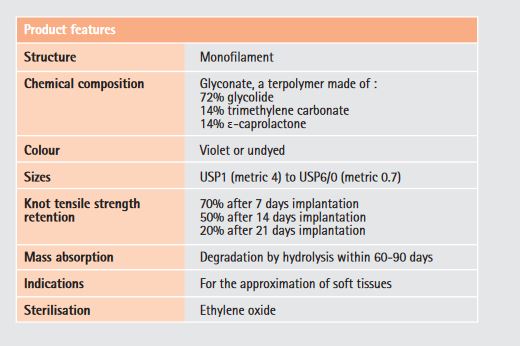 Standard warranty covered by the seller against any manufacturing defect. In such events, please report to us within 7 days from the date of delivery at connect@lumiere32.sg.
Overall Customer Rating:
0 customer reviews Sign In Or Register to post your reviews.
Sign Up
---