3M RelyX Temp NE Temporary Cement A eugenol-free temporary cement that offers the ideal balance of reliable retention and easy removal for provisional restorations.
Indications
• Cementing temporary restorations
• Provisional cementation of permanent restorations
• Cementation of crown and bridges onto implant abutments Product Benefits
• Extremely low film thickness helps ensure an optimal fit
• Strong adhesion offers high retention to the tooth, yet it is removed easily
• Excess cement can be easily removed
• Eugenol-free for universal indications because it will not inhibit the polymerization of composite resin cements; it's compatible with temporary crown and bridge materials, composite resin cements and composite resin core build-up materials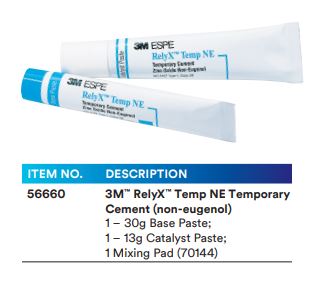 RelyX Temp NE is Eugenol-free, therefore universally applicable, independent on whether subsequent cementations are performed conventionally or adhesively.
Very low film thickness
Strong adhesion to tooth in combination with easy removal of the temporary restoration
Cement excess remains in temporary restoration for easy cleaning of tooth
FEATURES:
Very low film thickness
Strong adhesion to tooth
Easy cleaning of tooth
Eugenol-free and hence universally applicable
INDICATION:
Temporary cementations of temporary and permanent crowns and bridges
Package Contains:
- 1 Base Paste 30g
- 1 Catalyst 13g
- 1 Mixing Pad
Standard warranty covered by the seller against any manufacturing defect. In such events, please report to us within 7 days from the date of delivery at connect@lumiere32.sg.
Overall Customer Rating:
0 customer reviews Sign In Or Register to post your reviews.
Sign Up
---