Nano Hybrid Composite
3M ESPE Filtek Z250XT Universal Restorative is the solution for your everyday restorative needs.
Filtek Z250XT Nano Hybrid restorative offers the handling dentists prefer.
For decades, 3M ESPE has worked to continually improve and perfect handling from the dentist's point of view. Filtek Z250XT restorative will make your work go smoothly. The expected results are now easy to achieve.
Formulated for strong, reliable performance.
With Filtek Z250XT restorative, you can satisfy patient expectations for a natural-looking, high quality restoration. Nanohybrid formulation resulted in high flexural strength, diametral tensile strength, wear resistance and improved polish retention. When you place Filtek Z250XT restorative, you can trust in a reliable outcome.
Easy to use in all classes of direct restorations.
Our nanohybrid is designed to be easy to use, whether creating anterior or posterior restorations. With 12 popular shades that match the Vita Classical Shade Guide, you'll find it easy to match the patient's natural teeth. Filtek Z250XT restorative is formulated for strong performance and is easy to polish – so you can count on predictable, reliable, patient-pleasing results in any indication.
A new 3M ESPE nanohybrid that's even better at meeting daily restorative needs.
Building on the success of Filtek Z250XT Nano Hybrid Universal Restorative, we incorporated our proven nanofiller technology to improve physical properties and give the restoration a surface that is easier to polish for good aesthetic results. The next generation – Filtek Z250XT Nano Hybrid Universal Restorative offers a great value as a versatile restorative you'll use every day.
All shades are radiopaque and fluorescent.
Easy to polish due to its nanohybrid properties.
12 shades that cover most dentists' daily needs.
Fluorescence.
Great handling without slumping or sticking to instruments.
Easy to use in posterior and anterior restorations.
Good fracture toughness, strength and wear resistance.
Easy to adapt to cavity.
Radiopaque.
Composition
The performance of a composite material is largely dependent upon the fillers it employs. Generally, a composite that has smaller particles is more polishable and retains its polish better than one containing larger particles. Also, generally a composite with a higher filler loading provides stronger mechanical properties. Four broad classifications are used to describe composites: Microfills, Nanofills, Microhybrids and Nanohybrids.
Microfills
Microfills, with their small particles, are known for their polishability and polish retention. But with the large surface area of the small particles, high filler loadings and the associated strength benefit have been unattainable, making microfills only suitable for low load-bearing, usually anterior applications.
Nanofills
3M ESPE is the only company with a product in the nanofill category. Filtek Z350 XT Universal Restorative, the latest offering, has a unique combination of nano-sized particles and nanoclusters. A high filler loading of nano-sized particles is achieved with this system, and the true nanofillers deliver both strength and esthetics.
Microhybrids and Nanohybrids
Microhybrids and nanohybrids contain a mix of larger particles and smaller sub-micron sized particles. Particle size on average is typically below 1 micron but above 0.2 microns. A wide distribution of particle sizes can lead to a high filler loading with resultant high strength and wear resistance.
1 More recently, the description "nanohybrid" has been marketed. The distinction between microhybrids and nanohybrids is not always clear, perhaps due in part to how they are marketed. After all, even microhybrids contain a small fraction of nano (sub 100 nanometer) sized particles. Companies add nanoparticles to microhybrids to fill the resin gaps between the larger particles. This can result in improved esthetic performance. There is, however, a limit to the amount of nanoparticles that can be added before the handling becomes too stiff.
It is worth noting that both microhybrids and nanohybrids contain larger particles than nanofills or microfills, and are therefore inherently limited in the esthetics that can be achieved. However, because they offer good overall performance and versatility, usually at a reasonable cost, they are a popular choice for dentists. A summary of composite classifications is given in Table 1.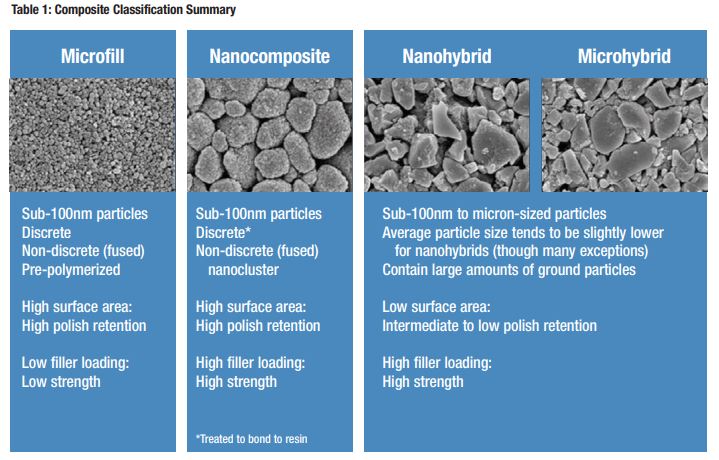 Handling
In this same clinical evaluation, dentists found the handling to be suitable for both anterior and posterior restorations, and rated it very favorably. They were asked to rate the handling attributes on a 7-point scale—for Viscosity, Stickiness, Flow and Ability to Hold Shape—with a rating of 4 being ideal.
Ease of Use
Nanohybrid composites are popular because they are versatile and easy to use. Factors that can affect the ease of use of a composite include the shading system, the polishability and the ease of achieving expected esthetic results. The Filtek Z250 XT Nano Hybrid restorative shading system was designed to match the Vita Classical Shade Guide with 12 shades that cover most dentists' everyday needs. Though polishability can be an issue with some hybrids, the filler package of Filtek Z250 XT Nano Hybrid restorative was specifically designed to yield a composite that is easy to polish and easy to achieve a good esthetic result. These combinations of factors make Filtek Z250 XT Nano Hybrid restorative easy to use.